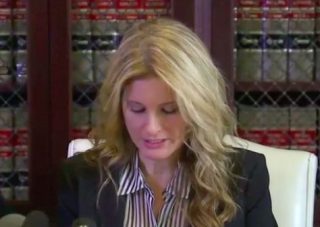 Summer Zervos, one of the women who accused Trump of sexual assault, along with her attorney Gloria Allred, held a press conference Friday afternoon demanding that Trump retract his statements calling his accusers liars now that he is going to become president. Zervos became very emotional even cutting her attorney off to ask, "What ever happened to a good old fashioned apology?"
"I want to make it clear even though it is hard, and painful to go up against the world's most powerful man, I will continue to speak the truth, and I refuse to be intimidated into silence," Zervos said.
Zervos was a contestant on The Apprentice, and claims when she contacted Trump for a job after the show, he kissed her, groped her breasts, and thrusted his private parts on her. 
After Zervos came forward, Trump released a statement to PEOPLE saying, "I vaguely remember Ms. Zervos as one of the many contestants on The Apprentice over the years. To be clear, I never met her at a hotel or greeted her inappropriately a decade ago. That is not who I am as a person, and it is not how I've conducted my life."
"Mr. Trump has been elected president of the United States, he now has the opportunity to begin his term with a clean slate. I challenge him to seize this opportunity now to retract his statement that these accuses are liars and these allegations are fabrications and fiction," Zervos's attorney, Gloria Allred said during a press conference.
Allred said that if Trump did move forward with his threatened lawsuits, she wold urge the accusers to countersue for defamation.
[image via screengrab]
Have a tip we should know? t[email protected]
Rachel Stockman - President / On Air Host