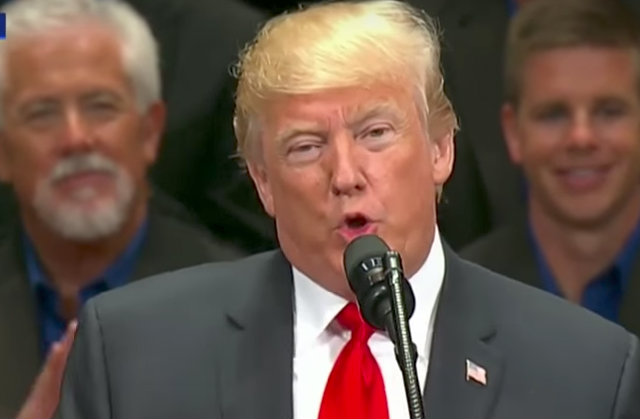 Five members of the U.S. military are suing President Donald Trump over his announced intention to ban transgender people from serving in the armed forces. Trump notoriously tweeted on July 26 that after speaking with generals, he decided to no longer allow transgender people "to serve in any capacity," a reversal of existing policy. Chairman of the Joint Chiefs of Staff Gen. Joseph Dunford said the next day that no such ban until the Secretary of Defense actually issued official guidance directing it. Wednesday's lawsuit says, "the White House turned that decision into official guidance, approved by the White House counsel's office, to be communicated to the Department of Defense," and that this action violates transgender people's equal protection and due process rights under the Constitution.
LGBT publication Washington Blade reported last week that guidance on the ban was approved by the White House Counsel's Office on Friday, to be sent to the Department of Defense. As of now, the DoD's website continues to include a transgender policy saying, "transgender Service members may serve openly, and they can no longer be discharged or otherwise separated from the military solely for being transgender individuals."
LawNewz.com reached out to the White House for comment, but they have yet to respond. We called the Department of Defense's press department twice, and they hung up as soon as we identified ourselves. The media contact for the Joint Chiefs of Staff hung up on us as well.
The plaintiffs have not identified themselves in the lawsuit, each filing under the name Jane Doe, but the complaint describes them as "active duty service members in the United States military who serve openly as transgender people."
All five say that since coming out as transgender, they continued to serve without incident. After President Trump announced his new policy, Jane Doe 1 submitted a prospective letter of resignation saying she would prefer to resign instead of being forced out based on being transgender. The letter said she would withdraw her resignation if the Department of Defense backed off from the ban.
The lawsuit was filed by attorneys for LGBT rights groups including GLBTQ Legal Advocates & Defenders and National Center for Lesbian Rights.
"Transgender service members have been blindsided by this shift and are scrambling to deal with what it means for their futures and their families," Shannon Minter, NCLR Legal Director, said in a statement. "The President's mistreatment of these dedicated troops will serve only to weaken and demoralize our armed forces."
Jennifer Levi, Director of GLAD's Transgender Rights Project, said in a statement, "This unjustifiable reversal of policy is devastating to these soldiers and harmful to our country.  These plaintiffs put their lives on the line every day for all of us. We can't afford to lose a single one of them."
Plaintiffs are also represented by lawyers from the firms Foley Hoag and WilmerHale, the latter being the firm of Jamie Gorelick, who has represented Jared Kushner and Ivanka Trump on various matters related to their White House roles.
Besides Trump, the named defendants include Dunford, Sec. of Defense James Mattis, Sec. of Homeland Security Elaine Duke, as well as various branches of the military and their respective secretaries as defendants. The complaint seeks an injunction barring the government from enforcing the ban.
Transgender Ban Complaint by LawNewz on Scribd
[Image via MSNBC screengrab]
Have a tip we should know? [email protected]