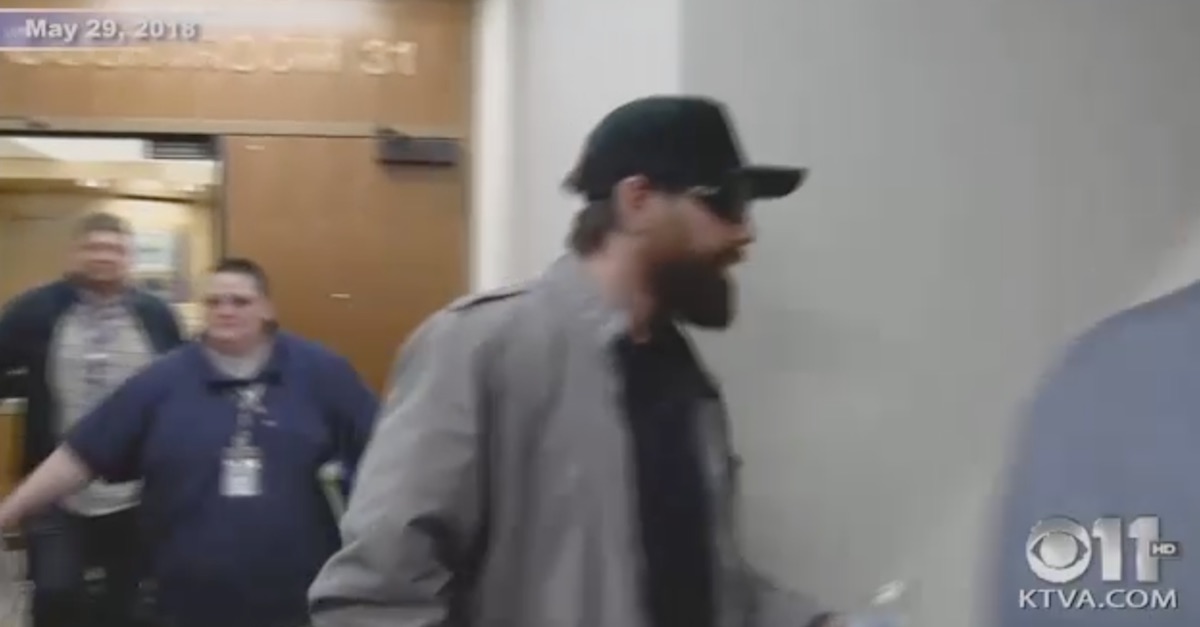 The military veteran son of former Alaska governor and vice presidential nominee Sarah Palin has lost a bid to completely deny the media from covering his pending court case. Track Palin is currently accused of assaulting his father Todd Palin at his family's home .
Local news video showed a bearded and sunglasses-wearing Track Palin, 29, exiting a courtroom at Anchorage's Veterans Court, a court that KTVA said is designed to treat rather than jail offenders. Palin was allegedly drinking and on painkillers when he attacked his father last December.
Palin and his attorney Patrick Bergt filed a motion to "prohibit or limit" media access, but the judge did not agree that the media should be completely barred from covering the proceedings.
Bergt said that he hoped the judge would consider the possibility that the coverage would be a "distraction" to other veterans.
"Mr. Palin seeks to prohibit or limit the scope of the media's access to his Veterans Court proceedings in the hopes that his case does not become a distraction to other veterans in the program," he said.
Judge David Wallace responded by allowing the press in the courtroom but prohibiting cameras. He said that to prohibit the press from being there would be a violation.
"To enter an order closing the hearing to the public and the media would violate the basic and fundamental principles set forth in long-standing precedent," he said.
Despite that, the judge in this particular court does seem sympathetic to the plight of veterans after they return home with concerns about overexposure.
The court, described as "therapeutic" rather than punitive, has participants stay for every hearing, so they would be there for Palin's hearing. The judge asks each veteran how they are doing and the courtroom applauds.
Needless to say, this is not the usual courtroom atmosphere and environment.
Palin would have to enter either a guilty or no contest plea to at least one charge next Monday to participate in this Veteran's Court program and a treatment plan.
[Image via KTVA screengrab]
Have a tip we should know? [email protected]