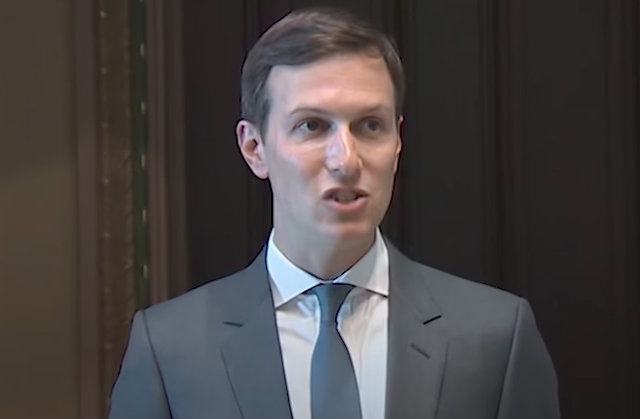 One of the major billionaires who funds the Democratic Party today thanked Jared Kushner for his role in attempting to flout Obama administration diplomacy viz. Israel and the United Nations.
At a summit headed by Haim Saban, the billionaire entertainment mogul told Kushner, "as far as I know there's nothing illegal there," in response to recent reports that the president's son-in-law was the "very senior" Trump administration official who directed Michael Flynn to intervene with Russia.
According to The Forward's Nathan Guttman, "Haim Saban seems extremely chummy with Kushner who spent the 2016 elections working to defeat Saban-endorsed Hillary Clinton."
Flynn recently pleaded guilty to making false statements to the Federal Bureau of Investigation ("FBI") about this intervention.
According to the statement of offense prepared by special counsel Robert Mueller:
During the January 24 voluntary interview, FLYNN made additional false statements about calls he made to Russia and several other countries regarding a resolution submitted by Egypt to the United Nations Security Council on December 21, 2016. Specifically FLYNN falsely stated that he only asked the countries' positions on the vote, and that he did not request that any of the countries take any particular action on the resolution. FLYNN also falsely stated that the Russian Ambassador never described to him Russia's response to FLYNN's request regarding the resolution.
The document goes on to note, "a very senior member of the Presidential Transition Team directed FLYNN to contact officials from foreign governments, including Russia, to learn where each government stood on the [anti-West Bank settlements] resolution and to influence those governments to delay the vote or defeat the resolution."
Kushner is currently being scrutinized for apparently directing Flynn to make said intervention on behalf of Israeli Prime Minister Benjamin Netanyahu. Many Democrats have charged that Kushner's alleged direction to intervene with Russia on behalf of Israel's government is a violation of the Logan Act.
In response to Saban's praise, Kushner said, "thank you."
Saban and Kushner's friendly interaction at the Brookings Institution's event over the latter's Security Council intervention appears to confirm Kushner's role in the widely-scrutinized incident.
A major power-player in Democratic Party politics, the man behind the Mighty Morphin Power Rangers franchise donated over $16 million to Democrats during the 2016 election alone, according to non-partisan campaign finance watchdog OpenSecrets and has been described as the Clinton family's "favorite billionaire."
[image via screengrab]
Follow Colin Kalmbacher on Twitter: @colinkalmbacher
Have a tip we should know? [email protected]