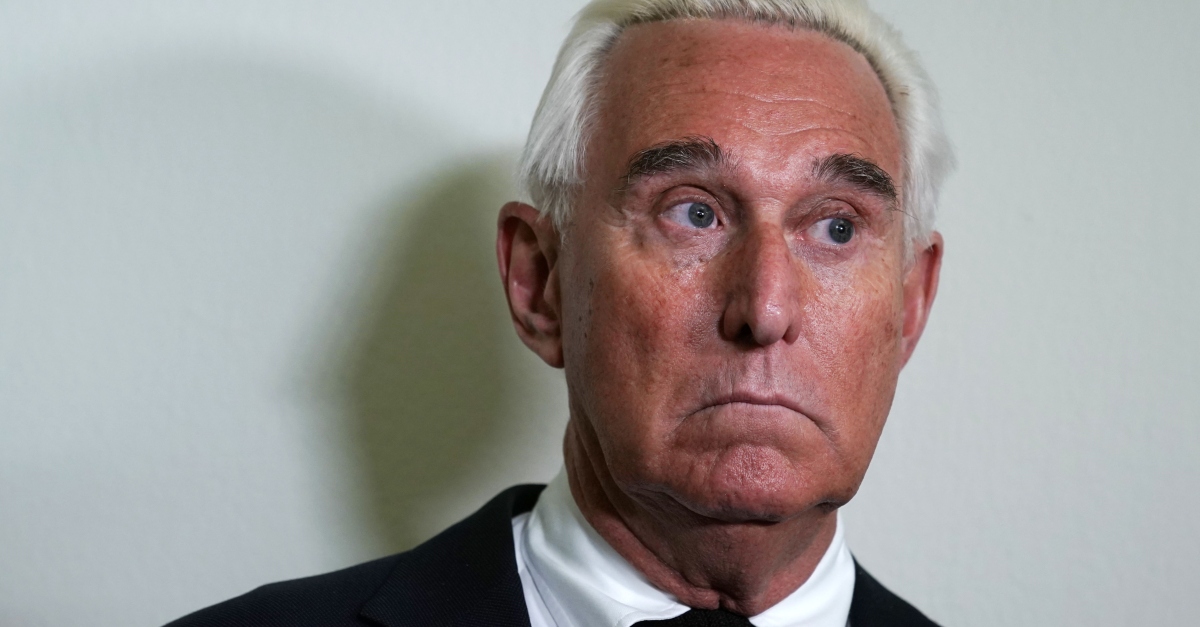 Long-time political operative and former Donald Trump associate Roger Stone was arrested in dramatic fashion early Friday morning. An indictment released by Special Counsel Robert Mueller's office accused Stone of being involved in the the release of hacked emails from the Clinton campaign, and then lying about it. Among the charges are one count of obstruction, five counts of false statements, and one count of witness tampering.
Here are the top takeaways from the indictment.
1. Obstruction
The indictment alleges that Stone "took steps to obstruct" investigations by the FBI and congressional bodies into Russian election interference. This includes allegedly lying to the House Intelligence Committee about his contact with "Organization 1," which appears to be WikiLeaks, as well as falsely having evidence of his interactions with them. The indictment also says that Stone tried to get another witness to give false information and withhold evidence.
2. Advance knowledge of Clinton email hack
The indictment refers to an "intermediary" that he used to communicate with WikiLeaks. It describes the person as a radio personality, so it appears to refer to Stone associate Randy Credico, although the indictment simply calls him Person 2. This person, according to a letter from Stone to the House Intelligence Committee, was a "gentleman who confirmed for Mr. Stone" that the head of WikiLeaks possessed "'[e]mails related to Hillary Clinton which are pending publication.'"
3. Stone was in contact with the Trump campaign regarding WikiLeaks email dumps
The indictment claims that after DNC emails were published in July 2016, "a senior Trump campaign official was directed to contact" Stone about other damaging information WikiLeaks had about Clinton and what future releases there might be. Stone allegedly kept the Trump campaign updated regarding possible additional releases.
4. Some familiar emails from Jerome Corsi
The indictment includes excerpts of emails between Stone and "Person 1," who is described as a "political commentator who worked with an online media publication during the 2016 U.S. presidential campaign." Those emails are similar to those included in a draft document that was reportedly a document Mueller wanted right wing author Jerome Corsi to sign as part of a plea deal. Corsi refused, claiming Mueller wanted him to lie.
According to the emails, the person believed to be Corsi told Stone that there were two planned email dumps coming from WikiLeaks.
5. Stone's own statements about contacting Julian Assange
Roger Stone has been denying that he ever contacted WikiLeaks head Julian Assange. The indictment includes a list of five instances in August 2016 where Stone said  "I actually have communicated with" Assange, was "in communication with" Assange, or engaged in "some back-channel communication," through an "intermediary" or "mutual friend."
6. Advance knowledge of October surprise: "Hillary's campaign will die this week"
The indictment goes through a series of events prior to the October 2016 WikiLeaks release of Clinton campaign chair John Podesta's emails, including communications between Stone and the person believed to be Credico, where Stone was told that big stuff was coming. One message to Stone said, "big news Wednesday . . . now pretend u don't know me . . .Hillary's campaign will die this week." Six days later, the indictment say, WikiLeaks began publishing Podesta's emails.
7. False statements
Despite all of the above, after the various Russia investigations began and the House Intelligence Committee contacted Stone with a request to produce documents, Stone allegedly had a letter sent back saying, "no documents, records, or electronically stored information, regardless of form, other than those widely available that reasonably could lead to the discovery of any facts within the investigation's publicly-announced parameters."
The indictment recalls that Stone then testified before the committee. When asked if it was true that he had no "no emails, no texts, no documents whatsoever, any kind of that nature" regarding hacked documents or communications with WikiLeaks, Stone said, "That is correct. Not to my knowledge," the indictment says. At that time, the indictment said, Stone had records of several such communications, including those described above.
Stone also allegedly lied about using intermediaries to make requests of documents from WikiLeaks. The indictment cites three emails from July and September 2016 where Stone allegedly made such requests. He also allegedly gave false statements to the House Committee by saying his contacts with an intermediary were all in person or over the phone, despite there being evidence of text communications.
8. Stone's ties to Trump campaign
While Stone was not officially with the Trump campaign anymore by the summer of 2016, he was still allegedly in touch with them, despite what he told Congress. The indictment says that Stone lied when he said he didn't tell campaign officials about the above communications with his intermediary. In reality, the indictment says, "On multiple occasions, STONE told senior Trump Campaign officials about materials possessed by Organization 1 and the timing of future releases."
9. Witness tampering
Not only does the indictment accuse Stone of lying to Congress, it also says he tried to get another person to do the same. It describes efforts made by Stone to get Person 2, believed to be Credico, to testify falsely in order to back up his own testimony.
10. An actual Godfather move
As part of the alleged efforts to keep Person 2 from ratting him out, Stone allegedly told him to "do a "Frank Pentangeli." The indictment recognizes that this is a reference to the movie The Godfather Part II, where a person testifying before Congress "claims not to know critical information that he does in fact know."
Stone Indictment 012419 by on Scribd
[Image via Alex Wong/Getty Images]
Have a tip we should know? [email protected]