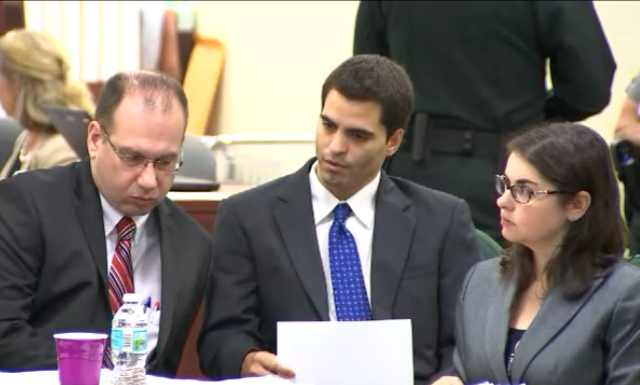 Adam Matos is on trial in Florida over the deaths of his ex-girlfriend (who was the mother of his child), her parents, and a new friend with whom she is said to have had a possible romantic relationship.
The victims are Megan Brown, her parents Gregory and Margaret Brown, and Nicholas Leonard.
Matos faces four counts of first-degree murder. If convicted, a jury could give him the death penalty.
LawNewz has pieced together the following timeline based on police records, pretrial depositions, and testimony. We will update it as testimony continues.
====================
July 2, 2014 —
The Browns (who eventually became victims) move from Pennsylvania to Florida with Adam Matos.  The Browns moved to be closer to family. Matos moved to remain close to the son he had with Megan Brown. Matos was to live with the Brown family in a house rented from a Brown family acquaintance. According to family members, Matos was to get a job and help chip in on rent.
July 4, 2014 —
Neighbor Ryan McCann, a professional captain, meets the Brown family after returning from sea. His observations of what happened on August 28 and over the following days will become critical to the investigation.
Early July 2014 —
Brown family relatives in Florida help Gregory, Margaret, Megan, and Adam Matos move into their rented home. Relatives stay overnight in the home during the move-in period. Normally, relatives say Megan Brown and Matos slept in separate bedrooms. While one relative was staying, Megan Brown and Adam Matos slept in a shared bedroom with their son, though Matos and Megan Brown slept on separate mattresses.
Unknown Dates —
Megan Brown gets a job bartending at the Fisherman's Shack, a local pub. There, she meets Nick Leonard.
Neighbor Ryan McCann accidentally locks himself out of his house. Matos uses bobby pins to pick his lock. It was "easy for him to pick the door," McCann told attorneys in a deposition.
August 14, 2014 —
Megan Brown calls 911 to report she's being threatened or harassed by a female.
Police don't generate a complaint or investigate because Megan Brown couldn't provide "hard details" about the "third party exchange." Police advised her how to handle the situation should it occur the future. A pretrial deposition makes it unclear whether the call was recorded. The identity of the alleged harasser was never determined.
Sunday, August 24, 2014 —
Margaret Brown's father speaks with her for the last time before she is killed.
Wednesday, August 27, 2014 —
Nick Leonard is believed to have been the person who called a Verizon store in the Wichita, Kansas area to complain that a former romantic interest who lived in Wichita and who worked for Verizon may have been hacking into his accounts.
Megan Brown reports to work.
Megan Brown and co-worker Tonya Carlson go out after work.
Thursday, August 28, 2014 — 
Early Morning Hours – Matos repeatedly tries to call Megan Brown.
5:00 to 5:30 a.m. – Megan Brown is estimated to return home after a night out with co-worker Tonya Carlson.
6:07 a.m. – Megan Brown places the first of two 911 calls. This call was disconnected for unknown reasons. Operators tried to call back several times as per procedure, but got Brown's voicemail.
6:11 a.m. – Megan Brown places the second of two 911 calls. During the eleven-minute call, Brown is heard sobbing while reporting that Matos pushed her against a wall, held a knife to her throat, and threatened to kill her. (Though jurors heard the call, defense attorneys successfully convinced the judge to edit out portions of the call pertaining to Matos's ethnic background to prevent possible prejudice.) Brown says Matos fled the house when their son woke up. Police investigate for approximately an hour and a half.
7:49 a.m. – Starting at this time, Matos made approximately 200 calls to the cell phones of both Megan and Margaret Brown.  (Prosecutors said later during opening statements that Matos called Megan Brown some 120 times between the 27th and the 28th.)
8:30 a.m. (approximate) – Megan Brown speaks with friend Tonya Carlson. Megan tells Carlson that Matos had been acting crazy, that she had never seen him act this way, and that she was in fear Matos might kill her. Megan also tells Carlson she is afraid to go to work out of fear Matos would take their son.
9:04 or 9:07 a.m. – Nick Leonard calls 911 to report that Megan Brown had been attacked. A deputy again responds, thinking it was a new attack; it wasn't.
9:10 a.m. – Megan, Gregory, and Margaret Brown speak with Deputy Heidgerken at their home regarding aggravated assault accusations against Matos.
12:02 p.m. to 12:07 p.m. – Gregory Brown purchased a spark plug and a spark plug tool with a credit card. He was wearing a white tee shirt and plaid shorts. His body was later discovered wearing what are believed to be the same clothes.
Unknown Time – Neighbor Ryan McCann says Gregory Brown set up a table and chairs on his back porch.  Brown tells McCann that Megan would be having a party with friends after work.
2:30 p.m. – Detective Kraus speaks with Nick Leonard via telephone about an unrelated case.
3:00 p.m. – Margaret Brown begins her shift at a local convenience store.
3:09 p.m. – Megan Brown fails to report to work. She calls her boss at 3:09, tells him that she was scared, and tells him that she believed Matos was going to kill her. The boss is the last person authorities can confirm spoke with Megan Brown.
4:12 p.m – Matos makes his final call to Megan Brown (according to a police affidavit). (Prosecutors later said during opening statements the final contact occurred at 3 p.m.)
6:00 p.m. (approximate) – Neighbor Ryan McCann loans Gregory Brown a ratchet. Brown needed the ratchet to work on a spark plug in his RV's generator. Brown never returned the ratchet.
Unknown times — Margaret Brown's father says he tried to call her several times, but did not get a response.
11:10 p.m. – Margaret Brown leaves work at the convenience store and heads home. Investigators believe her drive home would have taken approximately 15 minutes.
11:45 p.m. to Midnight (approximate) – A man out for a walk hears three gunshots in the neighborhood.  (Investigators believe four bullets were fired, but one is believed to have been a missed shot.)
Friday, August 29, 2014 —
12:30 a.m. (approximate) – Neighbor Ryan McCann sees Matos at the Brown home (the murder scene). Matos is out of breath and sweaty. Matos comes over and strikes up a conversation.
Unknown Time – Matos posts some of the Brown family property and purebred dogs for sale on Craigslist.
Unknown Time — Neighbor Ryan McCann asks about the Browns.
2:00 p.m. – Craigslisters approach Matos about purchasing what is believed to be the Brown family television. He refuses to let the purchasers into the home and offers to bring the television outside for inspection. They leave, assuming it was broken.
Unknown Time – Megan Brown fails to report to work.
3:00 p.m. – Margaret Brown fails to report to work.
4:15 p.m. – Craigslisters purchase four of Margaret Brown's dogs.
4:30 p.m. – A Craigslister purchases another of Margaret Brown's dogs.
Unknown Time – Matos has pizza delivered to the murder scene.
7:00 p.m. — Neighbor Ryan McCann says Adam Matos approaches him to ask what he had been doing.  McCann, the professional captain, had been out fishing from 10 a.m. to 7 p.m.
11:48 p.m. – Matos drives the Brown family van to Walmart and buys a shovel. What is believed to be the same shovel was found in the van; the van was filled with blood, body fluid, and maggots.
Saturday, August 30, 2014 —
Neighbor Ryan McCann started smelling something strange in the neighborhood.  He believed "something was dead."
Sunday, August 31, 2014 —
6:30 p.m. – Neighbor Ryan McCann returned from a fishing trip on his boat. When he returned, Matos came over, asked what he and others were doing, and asked to share a beer. Matos asked McCann about any security cameras in the area "out of the blue."
Monday, September 1, 2014 (Labor Day) —
Matos asks neighbor Ryan McCann to give him a ride to the bank to cash a check, but banks are closed on Labor Day, so they don't go.
Matos tells McCann he has a flat tire and asks for a ride to go grocery shopping.
Matos tells McCann the Brown family had flown to West Virginia to take a vacation.  (An initial police report places this conversation on September 2.)
McCann observes that the smell of decomposition in the neighborhood has started to dissipate.
4:32 p.m. – Matos orders pizza from Papa John's in Hudson, Florida. It was delivered to the murder scene. The delivery driver tells authorities that Matos paid with victim Margaret Brown's debit card. The delivery driver sees Matos's child with Matos.
Tuesday, September 2, 2014 —
Neighbor Ryan McCann took Matos to the bank.
5:22 p.m. – Matos places a delivery order for a pizza from Papa John's. The delivery driver says Matos paid in cash. The driver says a foul odor was coming from the Brown family residence. The driver did not see Matos's child during their interaction.
6:00 p.m. – Neighbor Charles Smith reports seeing Papa John's deliver the pizza to the Brown home. Smith recalls the night and the time because he goes to a social meeting on the first Tuesday of every month at 6 p.m.
Wednesday, September 3, 2014 —
7:00 a.m. – Neighbor Sharon Mann says a man matching Matos's description was spraying water in the garage and sweeping the water outside the garage door. Investigators later found blood and the Brown family vehicle soaked with blood inside the garage.
Matos approaches neighbor Ryan McCann, asks him for a beer, and then asks to go to a bar.  McCann is hungry.  They choose to go to a local bar and grill.
7:30 p.m. to 8:00 p.m. (approximate) – McCann and Matos leave to go to the bar and grill.

Matos and McCann play three to five games of pool.  Matos is bad at it. McCann wins every game.
An older woman approaches McCann and tells him to "get rid of" Matos.

The woman says, "I'm a 60-year-old woman and he doesn't need to be talking to me like that."
McCann tells Matos to leave the woman alone.
Matos responds by very loudly asking McCann what his problem was. Then, Matos changes gears and apologized. McCann believed Matos had become drunk.

Matos eventually gets into the women's bathroom, despite it having a pink door and being labeled.
Matos again gets caught in the women's bathroom — this time, he's sleeping in there.
McCann goes into the women's room, retrieves, Matos, and takes him home.

Later that evening/morning, Matos asks to go out again. McCann told him no.
Thursday, September 4, 2014 —
9:54 a.m. – Linda Thomas, Megan's grandmother, calls the Pasco County Sheriff's Office to request a welfare check. The family hadn't heard from Megan since August 28.

Police respond to the Brown family home and discover four distinct murder scenes and a substantial amount of blood both in the home, in the garage, and in the back of the Brown family van.
Police find the four victims' bodies off of Old Dixie Highway one mile north of the murder scene.

2:00 p.m. – a forensic investigator with the medical examiner's office arrives at the site where the bodies were dumped.
10:40 p.m. – Matos takes a cab from near the intersection of Yachtsman Drive and Bertram Drive (a few blocks from the murder scene) to a Greyhound bus terminal in Tampa, Florida.
Friday, September 5, 2014 —
Shortly after Midnight – Matos asks a bus terminal security guard when the first bus is scheduled to leave. The guard tells Matos that the first bus leaves after 6 a.m. and directs Matos to a nearby hotel.
Unknown time – Tampa police find Matos checked into a motel a few blocks from the bus terminal.
6:30 a.m. – Matos tells police that he left the Brown home for the last time at around 6:00 a.m. on August 28. He claimed he never returned to the home on August 29.
September 9, 2014 —
5:30 p.m. – Matos grants an interview to the local newspaper, the Tampa Bay Times, from jail. Police heard him again claim he left the Brown home on August 28 and did not return to the home after that date.
Senior Trial Producer Cathy Russon contributed to this report.
Have a tip we should know? [email protected]
Aaron Keller - On Air Host