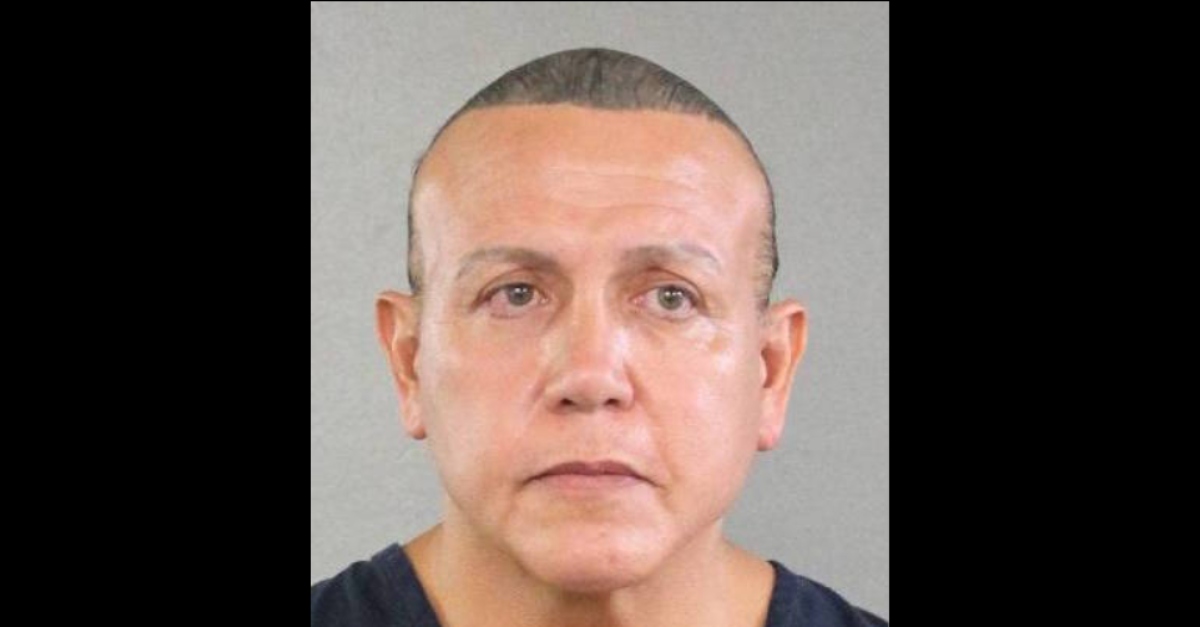 More details are coming in about how authorities were able to track down suspected "MAGAbomber" Cesar Sayoc, the person they believe targeted CNN and a number of high-profile Democrats with explosive devices sent by mail.
Law&Crime previously spoke with multiple sources who have a wealth of knowledge about how the FBI conducts investigations like this one. We asked about Ted Kaczynski, also known as the Unabomber, and the more recent example of serial bombings via package occurred in Austin over the course of two and a half weeks back in March of 2018. That ended with the explosion death of Mark Anthony Conditt as police gave chase. Each of the FBI sources we spoke with were confident that the suspect would be identified "within two weeks or less," but said that capturing the suspect might be a different story, depending on how sophisticated the perpetrator was.
Sayoc, CBS News reported, made a critical mistake. Sayoc, a law enforcement source said, left DNA evidence on one of the devices he's accused of sending in package form.
We already knew that the devices being taken into custody in advance of their detonation was absolutely crucial, as authorities would then be able to find signatures unique to the bomb-maker or other forensic evidence upon analysis.
On Thursday, authorities were able to pinpoint the origin of these packages to Florida through the analysis of mail routes. Additionally, Sayoc's public social media footprint almost certainly aided in narrowing the investigation down to him.
In a few photos, Sayoc was pictured wearing MAGA hats. He appears to have attended a Trump rally in October 2016. His profile was rife with memes, whether anti-Muslim or anti-gun control.
He also took a photos of the president.
The suspect's Twitter history has also drawn attention.
"Go Trump Trump Trump hey Joseph Robinette Biden Jr. And Eric Himpton Holder Sr. Stick your BS all crap you talk where sun doesn't shine . We will meet your threats right to your face soon," one tweet said, according to the Washington Examiner.
Authorities were also able to track down Sayoc through cell phone records.
Earlier Friday, authorities swarmed an AutoZone location in Plantation, Florida and were quick to cover a white van covered in decals.
That van caught the attention of people in the past. As you can see, amid all of the pro-Trump messages were messages like "CNN Sucks."
Lesley Abravanel tweeted, "OMG. My husband just called and said 'Remember that picture I texted you of that crazy Trump van that delivered lunch to my office? THAT WAS THE GUY!' This is the picture he sent me of the van parked at his office on November 1, 2017."
FBI agents could be seen questioning employees at the AutoZone. They reportedly have information on Sayoc in their database.
None of the packages he allegedly sent exploded or harmed the apparent intended targets.
The suspect also had an extensive criminal history, including one incident related to a bomb threat.
Sayoc's criminal record dates back some years. Miami-Dade records obtained by Law&Crime show that he was sentenced to a year of probation in 2002. Documents name the charge as "BOMB/THREAT TO THROW."
He was reportedly arrested in 2013 for grand theft.
Sayoc is a registered Republican, according to Miami-Dade records Law&Crime obtained.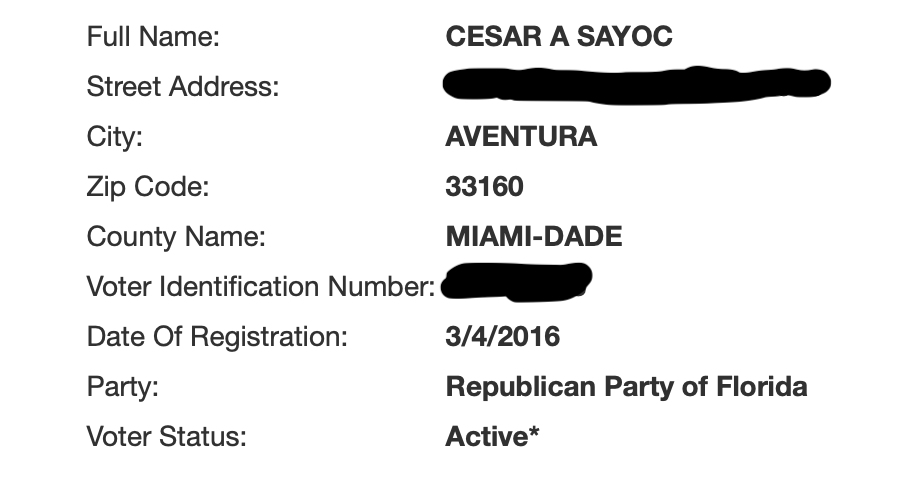 Intended recipients of these packages included Bill and Hillary Clinton, former President Barack Obama, former CIA Director John Brennan, CNN, former Attorney General Eric Holder, liberal billionaire donor George Soros, Rep. Maxine Waters,  Robert De Niro, former Vice President Joe Biden, Sen. Cory Booker, Debbie Wasserman Schultz and former Director of National Intelligence James Clapper. There have also been reports about investigations of suspicious packages sent to billionaire Tom Steyer and Sen. Kamala Harris.
[Image via mugshot]
Have a tip we should know? [email protected]