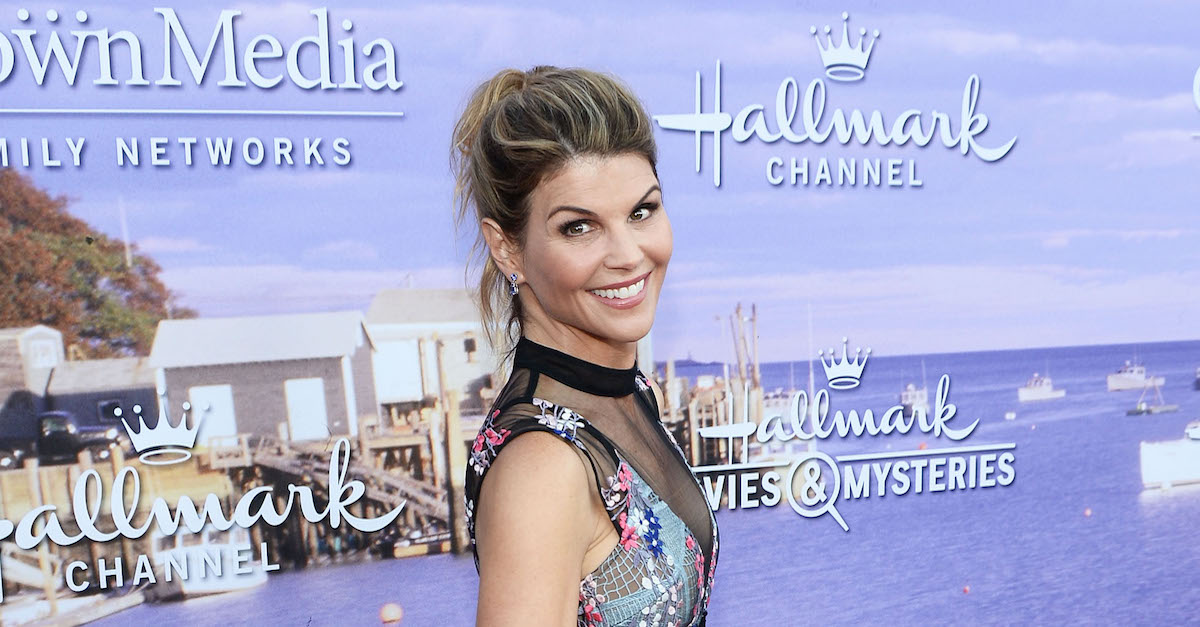 Full House's Lori Loughlin and her husband, clothing designer Mossimo Giannulli, have been indicted on a new set of federal crimes–including two charges related to money laundering.
On Tuesday, federal prosecutors operating out of the U.S. Attorney's Office for the District of Massachusetts filed a 54-page superseding indictment which charged 16 individuals with additional crimes over their alleged unlawful efforts to obtain select college placements for their less-than-accomplished children with the help of The Key Worldwide Foundation's William "Rick" Singer.
In a press release, The U.S. Department of Justice accused the embattled power couple of using "bribes and other payments in furtherance of the fraud by funneling them through Singer's purported charity and his for-profit corporation, as well as by transferring money into the United States, from outside the United States, for the purpose of promoting the fraud scheme."
Now charged with both: (1) conspiracy to commit mail and/or wire fraud; and (2) conspiracy to commit money laundering, Loughlin and Giannulli face an additional maximum 40 years in prison–though a maximum sentence for either is all but an impossibility.
Law&Crime reached out to several legal experts for comment.
Computer law expert and criminal defense attorney Tor Ekeland was previously a bit askance at the rush to condemn the parents and mete out American justice.  In an interview with Law&Crime, Ekeland said this turn in the college admissions scandal is par for the course.
"Not surprising at all," he said during a phone call. "Those [wire and mail fraud] statutes are really elastic. You can charge a lot of things under those statutes. They don't follow the common law definition of fraud–you don't need to have completed the crime to be charged with or convicted of fraud–just the attempt is enough."
"It's pretty standard to file the initial indictment and then follow up," Ekeland added, "superseding indictments are quite common. You don't stop investigating or stop working when you file that first indictment. And when people plead out and maybe start cooperating with you, you get more information to work with."
There's also the increased bargaining position for the prosecution.
"[A superseding indictment] is partially used as offensive leverage to force people to plea," Ekeland noted in response to a question. "So, the people who plead first get better deals. So, in this case, Felicity Huffman made the smart move. Usually the longer people wait, the worse plea they'll get. Of course, there's always the off-chance that they take [their case] to trial and beat the charges–but those people who made the pleas are stuck with their pleas."
Julie Rendelman is a former prosecutor and currently a defense attorney working in New York City. She also serves as a host on the Law&Crime Network. In an email, she echoed the idea that the additional indictment was to be expected.
"Assuming Loughlin and her husband were made a plea offer prior to the new indictment, and they rejected it, it is no surprise that the US Attorney's next step is to escalate the case with additional charges," Rendelman said via email. "Keep in mind that from the start, Loughlin and her husband were in a very different position than, for example, Huffman due to the significantly larger sums of money involved in Loughlin's alleged scheme. In the end, more charges may mean the potential for more jail time."
Robert Bianchi is a former prosecutor and a current legal analyst and host on the Law&Crime Network. In an email to Law&Crime, he also referenced Hufmman and said Tuesday's superseding indictment was an obvious eventuality.
"It is well known that in federal cases the faster you plea and cooperate with prosecutors, the lower your sentence," Bianchi said in an email. "On the other hand, the more you 'play it out' the worse it will be unless you have a viable defense to the charges. Huffman was smart to plea, show remorse, and throw herself on the mercy of the court. Defense lawyers can now work toward getting the lowest sentence possible."
"In juxtaposition, Loughlin appears to be fighting it out, and factually her case is more grievous than Huffman's," Bianchi continued. "The U.S. Attorney's response to her failure to plea was a second and more draconian indictment that could add to more jail time. Her lack of remorse and refusal at 'acceptance of responsibility' will not bode well if later she pleads guilty, or is convicted."
Bianchi also had choice words for the downtrodden millionaire duo:
As her attorney, I would have to let her know not to believe she will get from prosecutors what is now known as a "Smollett Plea"–i.e. a sweetheart deal. Rather, this case of greed, arrogance, and entitlement at the expense of deserving students will not be well received by prosecutors, judges, or the public. Time for her and her husband to get a reality check.
Ekeland, however, cautioned against a spate of juridical blood lust:
This is a white collar crime of privilege. It's certainly not fair but it's not the end of the world. You get into a real interesting area about your theory of justice and what punishment is appropriate. These aren't violent crimes. At the end of the day this is about public shaming.
[image via Matt Winkelmeyer/Getty Images]
Have a tip we should know? [email protected]