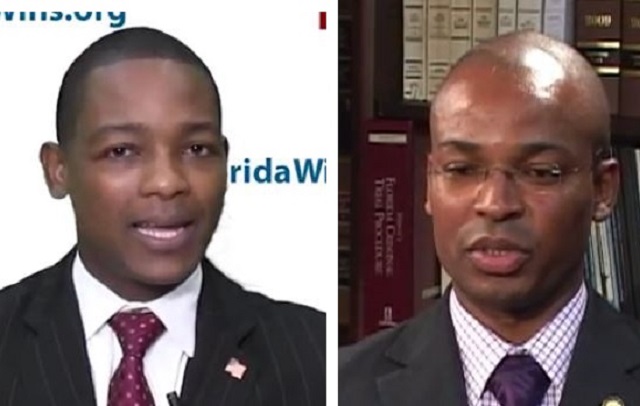 A startling report out of Florida revealed that two candidates who won local elections got a lot of help from residents who received mail-in votes … that they helped fill out. State Rep. Al Jacquet and Palm Beach County Commissioner Mack Bernard went to the homes of voters who received paper ballots, and stood there while they voted, in some cases telling them who to vote for or even filling out the ballots for them, according to the Palm Beach Post. The mail-in votes put both candidates over the top in their respective races, securing their victories.
There is no law against candidates assisting voters with their ballots, but the specifics of the reported activities certainly raise questions. Telling people who to vote for and watching them complete their ballots eliminates the intended secrecy of the ballot process. One woman stated that one of the candidates entered her home and pressured her into voting right then and there, even digging through her mail to find the ballot. The Post reported that the Jacquet and Bernard used updates from the elections office so that they would know when the ballots were sent to individuals.
Additionally, it's illegal, according to the Post, for anyone other than the voter to sign the ballot. A blind man told the newspaper that Bernard not only filled out his ballot for him, he signed the man's name for him too. State law requires that an absentee voter sign their ballot themselves, and Post reporters confirmed with records that the signature on the ballot didn't match the one that the state had on file.
Voters told the Post that they gave their ballots to the candidates or their campaign staff to then deliver to be counted.
Also raising serious questions is the fact that a number of voters told the Post that they didn't recall even requesting the ballots that were sent to their home. Indeed, Palm Beach County Elections Supervisor Susan Bucher said that she identified hundreds of ballot request forms as possibly fraudulent. Bernard's opponent, Priscilla Taylor, said that Bucher informed her of approximately 1,500 requests for ballots that were filled out in the same handwriting and same ink, and they were all brought in by Bernard and his people. Bucher said that the law didn't allow her to do anything about it. She had to respond to the requests and mail out the ballots.
Taylor had 768 more votes at polling stations than Bernard, but Bernard had 1,287 more absentee votes, giving him the win. Likewise, Jaquet's staggering 1,167 lead in mail-in votes overcame her 132-vote deficit from in-person voting.
There is a pending investigation into voter fraud in Florida, but the way these candidates went about things, their tactics may be legal. Still, that doesn't mean that everyone approves.
"That's just a stupid thing for a candidate to do," Gerald Kogan, a former judge who served on the Florida's high court said. "Why on Earth would a candidate have to go into somebody's house and watch them fill out a ballot?"
But the candidates insist they've done nothing wrong.
"To argue that my hard-fought victory was achieved by anything other than the sweat on my brow and the lost sole on my shoes is offensive," Bernard told the Post. Likewise, Jacquet said, "I worked hard and played by the rules! No laws were broken."
[Images via screengrab]
Have a tip we should know? [email protected]