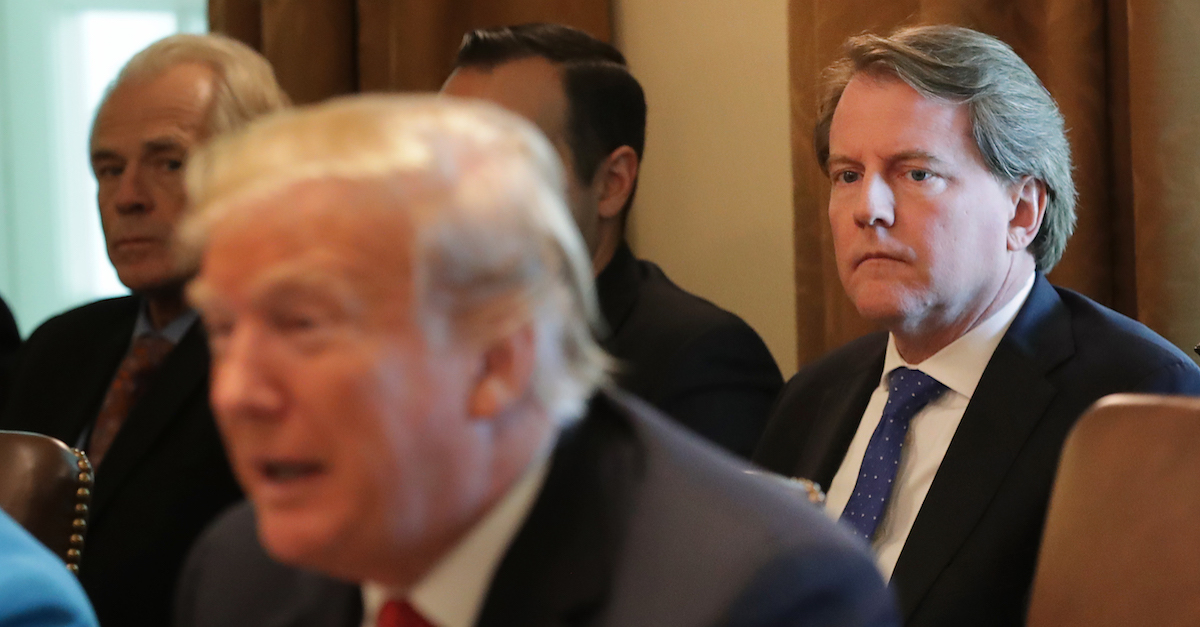 The New York Times reported on Tuesday that President Donald Trump wanted to order the prosecutions of Hillary Clinton and former FBI Director James Comey. Former White House counsel Don McGahn, who was given credit for preventing the president from actually doing this, responded to the Times story 1) through a lawyer and 2) by issuing a non-denial denial. Did you notice?
McGahn displayed a linguistic sleight of hand on Tuesday when commenting through his attorney William A. Burck.
Burck told the Times that McGahn was not going to comment on the legal advice he's given to the president. "[T]he president never, to [McGahn's] knowledge, ordered that anyone prosecute Hillary Clinton or James Comey," Burck said.
This does not contradict the story's main claim: "Trump Wanted to Order Justice Dept. to Prosecute Comey and Clinton." The subtlety of the language here serves as a kind of confirmation of the Times story.
The reason for that is simple: McGahn could have simply said that, no, Trump never considered such a thing.
That's not what happened.
What is it with the New York Times and the eliciting of non-denial denials lately, anyway? Remember the anonymous op-ed controversy? Remember when Ambassador Jon Hunstman was asked if he was the culprit and a statement was released on Hunstman's behalf? Here's what it said: "Come to find, when you're serving as the U.S. envoy in Moscow, you're an easy target on all sides. Anything sent out by me would have carried my name. An early political lesson I learned: never send an anonymous op-ed."
The New York Times had said all along that the identity of the person who sent the op-ed was "known" to them. Meanwhile, Hunstman denied sending "an anonymous op-ed." The thinking here is that in order for his identity to be known Hunstman would have had to send the op-ed with his name on it. This is the essence of the non-denial denial.
As Law&Crime noted separately, this latest report is no good, very bad news for the president, given McGahn's "extensive" cooperation with Special Counsel Robert Mueller. Legal analysts agree that McGahn's cooperation with Mueller is crucial on the obstruction of justice issue. Put another way, "whatever Don McGahn knows, Mueller knows."
McGahn has already told us through his lawyer something he doesn't know, which is whether Trump ever ordered a politically-motivated prosecution. In doing so, he sure left a lot to the imagination.
CNN legal analyst and attorney Ross Garber told Law&Crime that while the Department of Justice guidelines say a sitting president can't be indicted, he thinks Mueller "will probably conclude or suggest that, in his opinion, the president's dealings with Comey and the Department of Justice were not entirely appropriate."
"This will ultimately be an issue for Congress to evaluate," he added. What McGahn knows stands to play a major role in that evaluation.
[Image via Chip Somodevilla/Getty Images]
Have a tip we should know? [email protected]