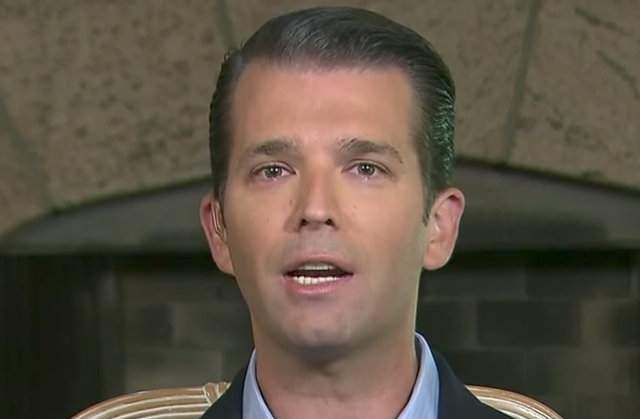 Here at LawNewz.com, we try to put politics aside, and analyze issues purely from a legal perspective. There has been much ado about Donald Trump Jr.'s meeting with a Russian attorney. Despite Trump Jr.'s ever-evolving statements, he has remained consistent about one thing: He never got any useable information from the Russian attorney. Despite that, as his emails prior to the meeting show, he was all too eager to get a hold of anything that he thought would hurt Clinton and he was under the impression that information would come from the Russian government. So is that enough to justify a crime?
So far, we've heard from legal experts who have made the very compelling argument that it doesn't matter that he never used the information because Trump Jr. was soliciting this "dirt" from a foreign national, which is a violation of election law. 52 U.S.C. 30121(a)(2) prohibits any person from soliciting a contribution or donation or a "thing of value" from a foreign national. Experts contend that the "thing of value" was the information he hoped to get. 
But, there is a pretty convincing argument that not one T.V. legal pundit has touched upon yet and it could very well save Donny Jr. from criminal legal liability. It was brought to light in the Yale Journal on Regulation by Andy Grewal, a professor of law at the University of Iowa.
His basic thesis (in my words): Trump Jr.'s own ignorance may save him from prosecution. As Grewal points out, usually ignorance of the law is not a defense. You can't rob a bank, and then claim you didn't know there was a law against it. But when it comes to the Federal Election Campaign Act–the law Trump Jr. is accused of violating–ignorance of the law is actually a pretty good excuse. In other words, if Don Jr. claims (which he probably will) that he had no idea that the federal law prohibited him from getting Clinton dirt from a foreign national, he might very well find himself off the hook. That's because this particular law requires a person to "knowingly and willfully" commit the crime. 
From Grewal's recent legal blog post:
Most of FECA's prohibitions, including those related to the solicitation of contributions/donations from foreign nationals, create criminal consequences only when a person "knowingly and willfully" commits a violation of the statute…

This heightened mens rea standard means that a person must know that he is breaking the law to trigger a criminal prosecution, and must know about the relevant statute duty: The "words ['knowingly and willingly'] of specific criminal intent require proof that the offender was aware of what the law required, and that he or she violated that law notwithstanding that knowledge,
Of course, we don't know for sure if Trump Jr, was ignorant of this federal law, but if he decided to make this his defense, it would be awfully hard for a prosecutor to disprove.
On top of that, there is a Ninth Circuit court case, United States v. Whittemore, which held at the very least, prosecutors need to prove he intended to violate the law.
However, there is an interesting caveat.
"This is based on what we know," election law expert Rick Hasen wrote in his own blog post. "We are seeing but a tiny sliver of the evidence the special counsel is seeing. It may be that Trump Jr.'s extreme recklessness would be enough. And it may be that Manafort, who attended the meeting and worked on campaigns would have the right mental state for criminal liability. We still don't know what we don't know."
So will Trump Jr. try to assert his ignorance as his defense? I can't imagine he won't try.
[Screengrab via CNN]
Have a tip we should know? [email protected]
Rachel Stockman - Editor in Chief / On Air Host