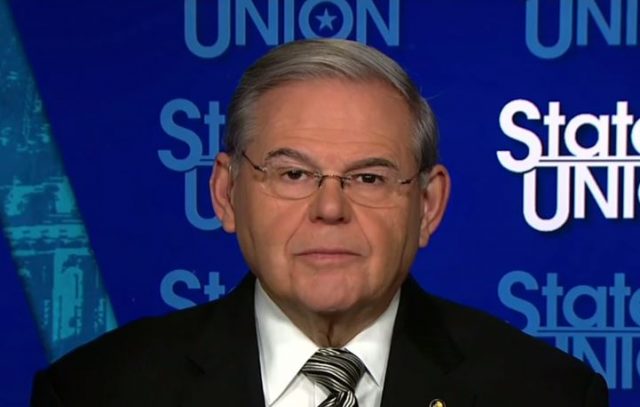 NEWARK, N.J. (AP) — The federal bribery trial of Democratic Sen. Bob Menendez ended in a mistrial Thursday when the jury said it was hopelessly deadlocked on all charges against the New Jersey politician and a wealthy donor.
Prosecutors can seek to retry the lawmaker.
U.S. District Judge William Walls declared the mistrial after more than six full days of deliberations that had to be re-started midway through when a juror was replaced.
There was no immediate word on which way the jury was leaning — toward conviction or toward acquittal.
The inconclusive end to the 2½-month trial could leave the charges hanging over Menendez as he gears up for an expected run for re-election next year to the Senate, where the Republicans hold a slim edge and the Democrats need every vote they can get.
Menendez, 63, is accused of using his political influence to help Florida eye doctor Salomon Melgen in exchange for luxury vacations in the Caribbean and Paris, flights on Melgen's private jet and hundreds of thousands of dollars in campaign contributions to organizations that supported the senator directly or indirectly.
Prosecutors said Menendez pressured government officials on Melgen's behalf over an $8.9 million Medicare billing dispute and a stalled contract to provide port screening equipment in the Dominican Republic, and also helped obtain U.S. visas for the doctor's girlfriends.
The defense argued that the gifts were not bribes but tokens of friendship between two men who were "like brothers." In Menendez attorney Abbe Lowell's closing argument, he used the words "friend," "friends" or "friendship" more than 80 times.
Menendez's lawyers contended also that the government failed to establish a direct connection between Melgen's gifts and specific actions taken by the senator.
Prosecutors said that didn't matter. Melgen, they said, essentially put Menendez on the payroll and made the politician his "personal senator," available as needed.
The two men faced about a dozen counts each, including bribery, conspiracy and honest services fraud. The most serious charge against Menendez, honest services fraud, is punishable by up to 20 years in prison.
The jury deliberated most of last week, then restarted on Monday with an alternate after a member was excused because of a long-planned vacation.
Melgen is already facing the possibility of a long prison sentence after being convicted in April of bilking Medicare out of as much as $105 million by performing unneeded tests and treatments.
Menendez, who has been under indictment for 2½ years, raised $2.58 million for his Senate campaign from January through September, according to federal campaign finance filings. The Republicans have a 52-48 edge in the Senate as they try to push through President Donald Trump's agenda.
The last sitting senator convicted of a crime was Ted Stevens of Alaska, a Republican found guilty in 2008 of concealing more than $250,000 in home renovations and other gifts. His conviction was later thrown out because of prosecutorial misconduct, and he died in a 2010 plane crash.
The Menendez case was the first major federal bribery trial since the U.S. Supreme Court in 2016 threw out the conviction of Republican former Gov. Bob McDonnell of Virginia and narrowed the definition of bribery.
In recent months, the McDonnell ruling led judges to overturn the convictions of at least three other public officials, including a former Louisiana congressman. Menendez's lawyers had likewise hoped to get the case against the senator dismissed, but the judge refused.
Menendez, the son of Cuban immigrants, served in the House from 1993 until he was appointed to fill a Senate vacancy in 2006. He has chaired the Foreign Relations Committee and was a major player in the unsuccessful bipartisan "Gang of Eight" effort to overhaul the nation's immigration laws in 2013.
More recently, he drew the ire of some fellow Democrats when he opposed President Barack Obama's nuclear deal with Iran and efforts to restore diplomatic relations with Cuba.
Have a tip we should know? [email protected]