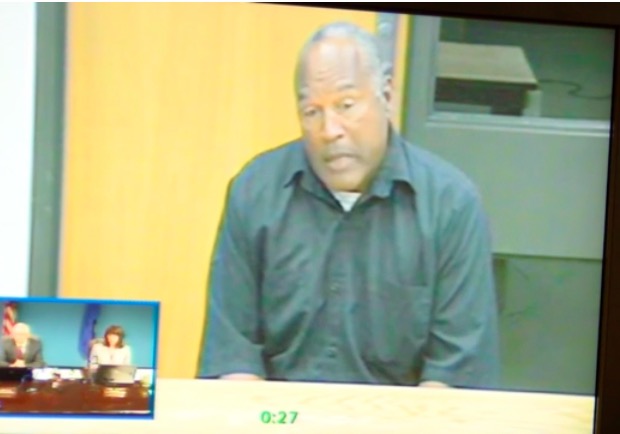 In an effort to keep you abreast of every angle of the upcoming OJ parole hearing, we would be remiss if we didn't cover the recent twitterstorm taking hold on the social media platform after a recent report that OJ Simpson's parole could be in jeopardy after he was caught masturbating in his cell.
Sources told The Daily Mail that just last month, Simpson was caught masturbating in his cell by a female corrections officer.
"OJ is facing a disciplinary hearing after being written up for masturbating in his prison cell," the source to the tabloid contends. "While it's not the most serious charge to be written up for in prison, it's serious enough that any potential parole date maybe be delayed or his parole denied all together."
It's not clear if this report is accurate. But, regardless, as can be expected, twitter went nuts. We picked out just some of the comments you witty readers left behind:
Damn Juice that parole slipped right through your fingers

— John Wien (@johncharleswien) July 19, 2017
Oh man. That's stings.
The Juice proving once again that he's a
*jerk off*

— alapierre (@Anna_LaPierre) July 19, 2017
What a 'stroke' of bad luck for OJ. https://t.co/IVvrBx2pSJ

— Grace (@BoundGrace) July 19, 2017
He may not have played a good hand there.

— Ildcvu (@ildcvu) July 19, 2017
Achieving release may keep OJ from achieving release. #irony https://t.co/IoI2Khje04

— Nathan (@NATHANINSOCAL) July 19, 2017
A spokesperson for the Nevada Department of Corrections told LawNewz.com, "It is against NDOC policy to release inmate disciplinary history to the public. It is also against policy to release inaccurate information.  No official from our department would have released the information in question."
Ronn Blitzer contributed to this report. 
Have a tip we should know? [email protected]
Rachel Stockman - President / On Air Host