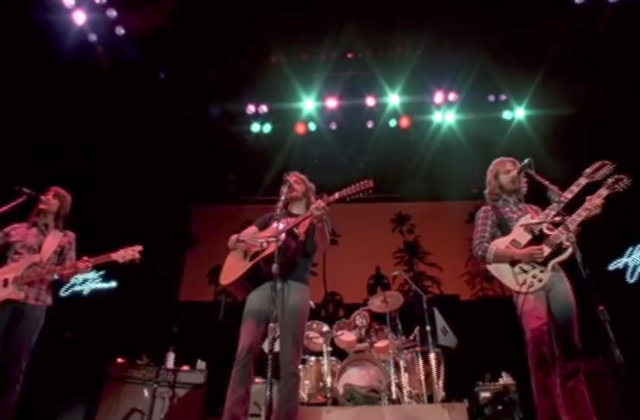 The Eagles just sued owners of a Mexican "Hotel California Baja" in Todos Santos, Mexico. According to the lawsuit filed in a California federal court on Monday, Debbie and John Stewart purchased the business in 2001, and soon postured it as the inspiration for the band's most famous song. That is no good, plaintiffs say.
Incidentally, the building was called "Hotel California" when first founded in 1950, but had gotten a name change to "Todos Santos Hotel" thanks to ownership changes. The Eagles say the couple brought back the original title, and made money off new merchandise by hyping a nonexistent connection with the band.
"On information and belief, consumers who visit the hotel and purchase Defendants' merchandise then return to the United States with the Infringing Merchandise and inform others that they have visited 'the' Hotel California made famous by the Eagles," the lawsuit states, adding that gift shop t-shirts describe it as "legendary."
"Such a designation only makes sense if the Todos Santo Hotel is somehow connected with the Eagles' famous and legendary song, which it is not," the Eagles say. Plaintiffs claim defendants managed to convince U.S. customers this business really featured a connection with the Eagles. The Stewarts also allegedly filed the offending merchandise with the US Patent and Trade Office in 2015. Products included bathrobes, key chains, guitar picks, playing cards, posters, sweatshirts, and t-shirts.
Now suing under federal statute and California common law, The Eagles want the Stewarts to stop using the "Hotel California" name, stop implying a connection with the band, and pay damages.
We reached out to the Hotel California for comment. As of Wednesday morning, the "About Us" page on their website suggests parallels between the song and their business, but makes no specific claims as to who inspired what.
However, one rumor, fabricated in the 1990's by someone with no connection to any owners of the hotel, states that the Eagles once owned it. This is unequivocally false. Many of the other legends are less black and white and continue to fascinate the public. Although the present owners of the hotel do not have any affiliation with the Eagles, nor do they promote any association, many visitors are mesmerized by the "coincidences" between the lyrics of the hit song and the physicality of the hotel and its surroundings.
[Screengrab via The Eagles]
Have a tip we should know? [email protected]