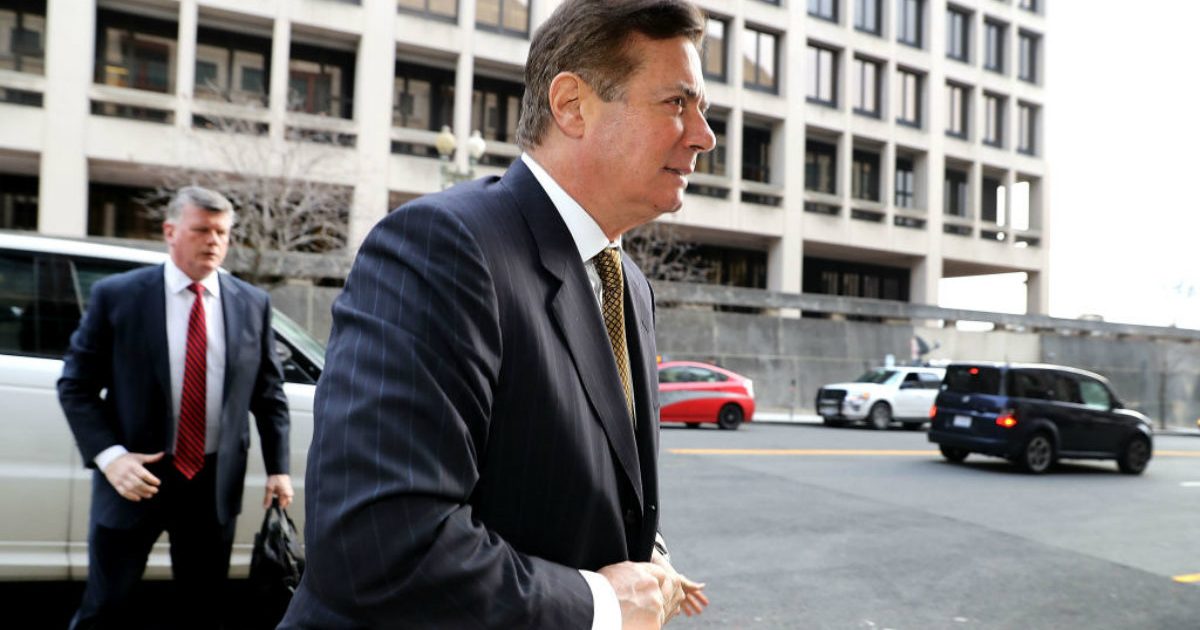 The Federal Rules of Civil Procedure (FRCP) aren't exactly the most humorous subject on Planet Earth, but the Democratic National Committee (DNC) nonetheless managed to elicit a chuckle or two with its difficulties "serving" jailed former Trump campaign chairman Paul Manafort.
In the latest filing on Monday in Democratic National Committee v. The Russian Federation (referred to often as the 2016 election racketeering lawsuit), the DNC says it's been trying since May to say 'you got served' to Manafort, but has failed time and again. To be served is to be officially notified of pending litigation as required by FRCP after the commencement of a civil action. The civil action has commenced in the Southern District of New York (SNDY).
Once again, a footnote manages to highlight the comedy of it all:
Plaintiff does not believe it is reasonably possible to serve Manafort by following any other state law [that is, other than N.Y. state procedure]. See Fed. R. Civ. P. 4(e)(1) (allowing a summons to be served by "following state law for serving a summons in an action brought in courts of general jurisdiction in the state where . . . service is made."). For example, it is not reasonably possible to serve Manafort under the laws of Virginia (where Manafort is being held) because the Marshal will not allow him to accept service personally, security guards will not permit service at his home in Virginia, and service by publication is unlikely to be effective in light of his confinement. See Va. Code Ann. § 8.01-296. Nor is it reasonably possible to serve Manafort under the laws of Florida (where his home is located) because no one will answer the door at his residence. See Fla. Stat. Ann. § 48.031.
In other words, they tried to serve Manafort at his Florida home, at his Virginia home and where he's been jailed in Virginia, but haven't had any luck. In one instance, they said the Marshal would allow Manafort to accept service. In other, they said security guards at Manafort's home prevented service. Nor is service by publication (it's exactly what it sounds like) deemed a practical path forward.
The main issue here is that Manafort doesn't live in New York, isn't located in New York, can't travel there, doesn't have a "designated agent" there to accept service for him and doesn't have his "actual place of business there," so the DNC is asking the Court if they can serve Manafort according to a fifth way outlined in New York State rules.
"In fashioning an alternative means of service, the Court may choose any method that is 'reasonably calculated, under all circumstances, to apprise interested parties of the pendency of the action and afford them an opportunity to present their objections,'" the DNC argued.
This would allow them to serve Manafort "in such a manner as the court [SDNY]… directs," and they're hoping that manner is by mail to the Alexandria Detention Center, esteemed home of terrorists, traitors and spies.
"For the foregoing reasons, Plaintiff respectfully requests leave to serve the summons and the Complaint on Manafort (a) sending it via first class mail it to the Alexandria Detention Center; and (b) sending it via first class mail and email to his criminal defense counsel," the DNC said. "Manafort can likely receive mail while he is incarcerated, and his criminal defense attorneys will certainly be able to speak with Manafort and give him a copy of the Complaint while they are preparing for Manafort's criminal trial."
Of course, they added a footnote at the end of that last sentence reminding the Court that Manafort and his lawyers have been allowed to meet up to 8 hours per day. During that time Manafort and his team would presumably be able to discuss the DNC lawsuit, along with criminal cases against him in the Eastern District of Virginia and the District of Columbia.
[Image via Chip Somodevilla and Getty Images]
Have a tip we should know? [email protected]