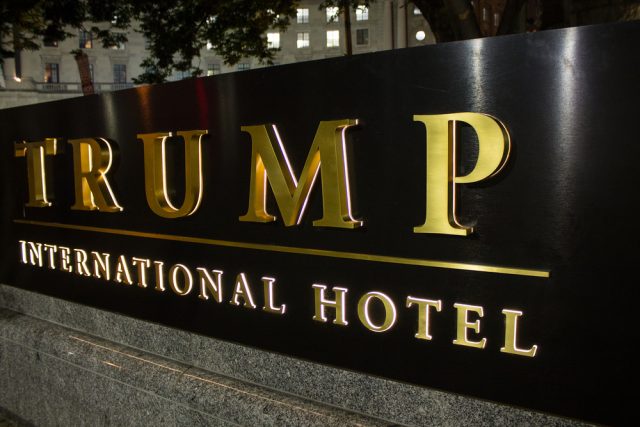 In another embarrassing episode of the New York Times buries the lede, white nationalist Richard Spencer and others apparently planned their part of the Charlottesville "Unite the Right" rallies while staying at Trump International Hotel in Washington, D.C.
In the final three paragraphs of a 42+ paragraph-long article, the Times' puff piece on President Trump's latest throwback to the Gilded Era claims that Spencer and other white nationalists are frequent guests at the site of the Old Post Office Pavilion–just five blocks away from the White House.
Reporter Katie Rogers notes that Spencer, who is famous for being habitually punched in the face as he advocates the elimination of people who aren't white, has been seen at the marble-and-crystal-slathered hotel with other white nationalists like Evan McLaren–an underling at Spencer's white nationalist agitprop outfit, the National Policy Institute.
McLaren summed up the apparent mood of many white nationalists vis-à-vis Trump International:
"Place to be."
His tweeted praise for the garish monument to the gauche–where the powerful and their courtiers can purchase $60 steaks and $24 chocolate cigars–came on the heels of a meeting between noted U.K. race-baiter Nigel Farage and Islamophobic presidential adviser Stephen Miller.
When questioned by Rogers about his visit to Trump International at the time, McLaren demurred, saying he was "too busy planning a rally in Charlottesville, Va."
That rally ultimately ended in the death of one woman, 32-year-old socialist Heather Heyer, and injured 19 others–in what is believed to be a politically-motivated attack by alleged white supremacist James Alex Fields, Jr.
As for Trump International Hotel, it's now the favored locale for GOP confabs and thrill-seekers who hope to catch a glimpse of the president or, at least, a member of the Trump family.
LawNewz reached out to Trump International Hotel's Director of Sales and Marketing, Patricia Tang, for comment on this story, but no response was forthcoming at the time of publication.
[image via Shutterstock.com]
Follow Colin Kalmbacher on Twitter: @colinkalmbacher
Have a tip we should know? [email protected]