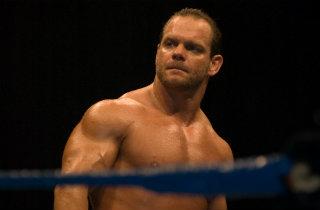 While at least two production companies had optioned the rights to films about the gruesome murder/suicide committed by professional wrestler Chris Benoit in 2007, there had been little substantive movement on either side for years. On Wednesday, however, it appeared that some new life was shot into one of them, SRG Films' "Crossface," named after Benoit's trademark wrestling hold. Lexi Alexander, the director of 2008's "Punisher: War Zone," announced on Twitter that she will be directing the film.
Alexander was initially taken aback by someone who asked her about "Crossface," saying that a press release was coming before deleting the tweet. However, this later tweet is still up as of this writing:
She was quoting screenwriter Sarah Coulter, who is apparently on board as well:
The bodies of Benoit, his wife Nancy, and son Daniel were found in their Fayetteville, Georgia home early in the evening of June 25, 2007, the night after after Chris had missed a WWE pay-per-view event without notice. He had previously called his bosses to say he was missing a non-televised event the night before that due to Nancy and Daniel having food poisoning. In reality, he had already strangled Nancy to death with a cord and either had just or was about to smother Daniel in his sleep after drugging him with Xanax. Hours before the pay-per-view event, Benoit hanged himself from the lat pulldown bar of a weightlifting machine in his gym.
Being that it's not exactly common to see anything like a celebrity "family annihilator" case, the murder/suicide became  a huge national news story. Large quantities of anabolic steroids being found in the home led to the conclusion that it was a case of "roid rage," a steroid-induced loss of impulse control. The truth was more complicated: Benoit was also abusing painkillers and drinking heavily, plus it was revealed a few months later that he had severe brain damage from repeated concussions. Nancy's family later sued Chris's doctor (PDF) for overprescribing in a case that didn't really go anywhere. They also filed a lawsuit against the parent company of Hustler for publishing nude photos of her in what became a precedent-setting privacy case.
Have a tip we should know? [email protected]