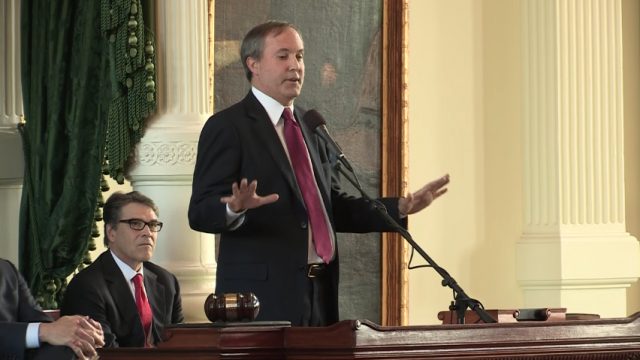 Texas' top law enforcement official believes parishioners should be armed in the future because mass shootings are simply a fact of life that Texans will have to deal with.
During an interview with Fox News in the aftermath of Devin Kelley's attack on the First Baptist Church of Sutherland Springs, Texas Attorney General Ken Paxton said:
We've had shootings in churches for, you know, for forever. It's going to happen again, and so we need people in churches, professional security or at least arming some of the parishioner or the congregation so they can respond if something like this — when something like this happens again.
The first modern mass shooting in a Texas church occurred on June 22, 1980. The First Baptist Church in Daingerfield was targeted by gunman Alvin Lee King III, a former high school teacher. King used a Colt AR-15, M1 Carbine and two revolvers–a Smith & Wesson Model 10 .38-caliber and a Röhm RG-10 .22-caliber–to kill five and injure a further 11 parishioners before he was apprehended after shooting himself. He later committed suicide before being convicted on multiple murder charges.
The most recent mass shooting at a Texas church occurred September 15, 1999. On that day, unemployed gunman Larry Gene Ashbrook opened fire on concertgoers attending a See You at the Pole rally featuring a performance by the Christian rock group Forty Days at the Wedgwood Baptist Church in Fort Worth. Ashbrook used two handguns–a 9 mm Ruger P85 and a .380-caliber AMT Backup pistol–to kill seven people and injure an additional seven others before turning his weapon on himself.
Fox News' Eric Shawn responded to Paxton's comments with a hint of incredulousness. He said, "The concept of a firearm and a church…are two potentially diametrically opposed concepts, when you're there praying to the Lord."
Paxton responded affirmatively, acknowledging the apparent discord between weapons and faith. He said, "There's no doubt. I think that's why so many people don't carry in a church." The first-term Republican continued:
All I can say is in Texas at least we have the opportunity to have conceal carry. And so…there's always the opportunity that gunman will be taken out before he has the opportunity to kill very many people.
Just two months ago, a law went into effect in Texas which allows congregations to put together their own security teams made up of church members who hold licenses to carry–known in Texas as an LTC. Such security teams are only allowed to perform security services on a volunteer basis and may not wear any clothing or insignia identifying them as "security."
[image via screengrab]
Follow Colin Kalmbacher on Twitter: @colinkalmbacher
Have a tip we should know? [email protected]