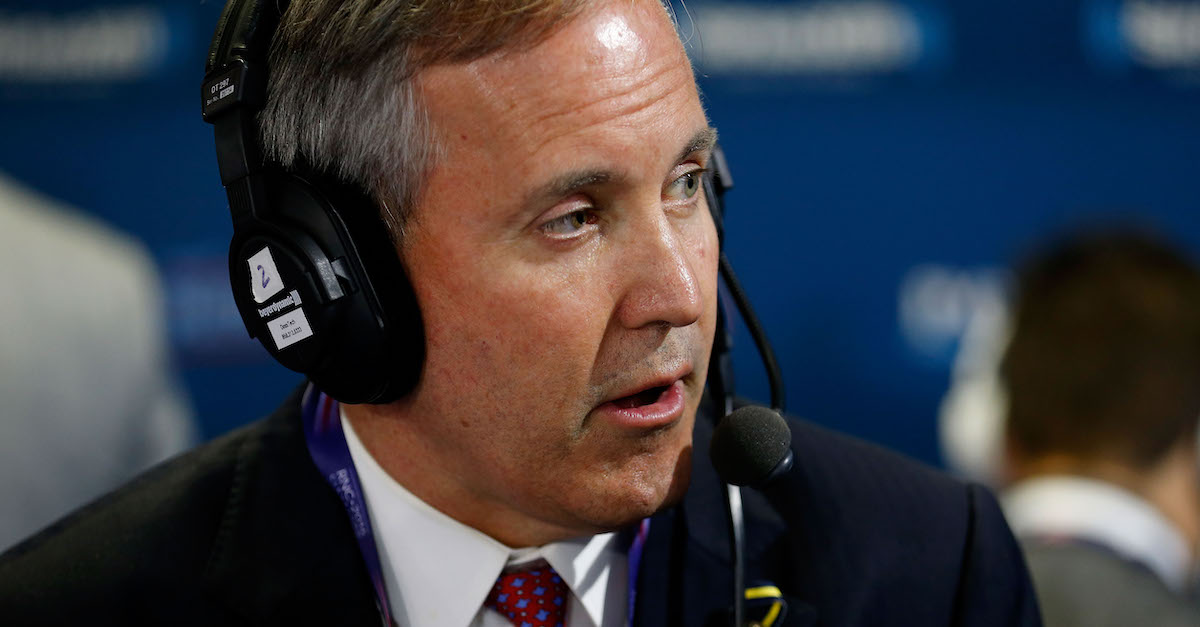 Texas Attorney General Ken Paxton is in an "Eat Mor Chikin" state of mind on Thursday, having sent letters to San Antonio mayor, city councilmembers and U.S. Department of Transportation Secretary Elaine Chao demanding in investigation into why Chick-fil-A didn't get a restaurant at the airport.
Paxton said that the decision to "remove Chick-fil-A from the City's new airport concessionaire contract may violate federal law and applicable federal regulations" against religious discrimination. Paxton said he directed his office to open an investigation, but also asked the Department of Transportation to see if the move violated the agency's "regulations prohibiting religious discrimination by federal grant recipients."
This is how Paxton described the event last week before the San Antonio City Council:
When the Council moved to adopt the staff recommendation to agree to the Paradies contract, a Council member instead moved to exclude and replace Chick-fil-A. His rationale was that Chick-fil-A has a "legacy of anti-LGBT behavior." He continued: "Perhaps the [San Antonio] Office of Equity and Inclusion should be involved in the vetting of economic deals to ensure they align with our core values as a city." The Council member who seconded the motion referred to Chick-fil-A as a "symbol of hate." This was despite testimony from City staff that, in its contract, Paradies would include compliance with San Antonio's ordinance that prohibits discrimination based on sexual orientation or gender identity. The Council voted 6-4 with one abstention for the motion to have staff work toward substituting Chick-fil-A in the Paradies agreement.
The Cathy family–which owns Chick-fil-A–and its views on gay marriage are no secret. In closing, Paxton said "There is no evidence indicating that Chik-fil-A has ever maintained any policy or practice of discriminating against any group of people, and the City offered no such evidence as the basis of its action."
Paxton said the council "vot[ed] to discriminate against a popular American fast food restaurant—Chick-fil-A—because of that organization's religious beliefs." The Texas AG said the "Supreme Court has soundly rebuked state actors for actions based on animosity to religious belief similar to those in question here," and cited the Masterpiece Cakeshop case.
He said that there were "violations of the First Amendment" and "likely " violations of "various federal statutes and regulations to which the City is subject as a recipient of Department of Transportation grant funds."
Texas AG Ken Paxton in Defense of Chick-fil-A by Law&Crime on Scribd
[Image via Kirk Irwin/Getty Images for SiriusXM]
Have a tip we should know? [email protected]