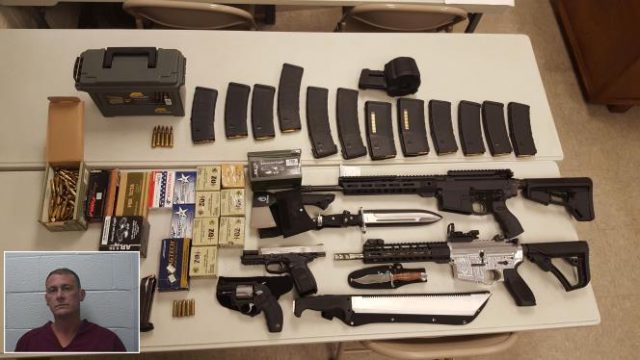 A man in Tennessee was arrested after being found with over 900 rounds of ammunition and multiple unlicensed firearms.
According to a news release issued by the Washington County Sheriff's Office, Scott A. Edmisten was pulled over for doing 55 in a 30 on Old Jonesborough Highway somewhere in the vicinity of Johnson City, Tennessee. The incident occurred late Monday night.
As police lights and sirens went into effect to hail Edmisten down, he initially tried to evade the traffic stop, speeding up to roughly 80 mph. Eventually, however, the 43-year-old man gave in and pulled over.
Once detained, officers arrested Edmisten for driving with a suspended license. He was also charged with speeding and felony evading arrest. Then police discovered the cache of weapons.
While likely performing a search incident to arrest, sheriff's deputies found a loaded .357-caliber Magnum revolver, a loaded .45-caliber semi automatic handgun, a loaded .223-caliber fully automatic AR rifle, a loaded .308-caliber fully automatic AR rifle, and more than 900 rounds of ammunition.
According to authorities, the final two guns qualify as "machine guns" and are prohibited under state law.
Sheriff Ed Graybeal, said, in comments to WJHL, the local CBS affiliate for the Johnson City-Kingsport-Bristol area:
Everything this young man had was loaded, everything was ready to go…the guys this morning, it took probably two hours to count all of it, to find all of it, to make sure how much he had, so 900 rounds of ammunition on your person, is a lot…two of the rifles were fully automatic, and he didn't have permits for those, matter of fact he had actually made those rifles fully automatic himself.
Once taken to the Washington County Detention Center, Edmisten apparently threatened the arresting officer and other staff before lunging at investigators during questioning, according to Graybeal. Washington County investigators then contacted the U.S. Bureau of Alcohol, Tobacco, Firearms and Explosives due to Edmisten's possession of unregistered, fully-automatic weapons.
Edmisten was later charged with possession of prohibited weapons, which–depending on the information available–likely qualifies as a Class E Felony in the State of Tennessee and carries a maximum sentence of up to six years in prison and a $3,000 fine
He is currently being held without bond.
[images via Washington County Sheriff's Office]
Follow Colin Kalmbacher on Twitter: @colinkalmbacher
Have a tip we should know? [email protected]