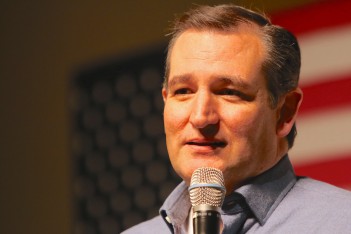 Texas Senator and former Republican presidential candidate Ted Cruz is calling on the FBI to release all the information it obtained during the Clinton email investigation.  In a statement released late on Tuesday, Cruz expressed concern that politics may have influenced FBI Director James Comey's decision to not recommend charges against Hillary Clinton.
The statement reads:
Yesterday, Americans celebrated the 240th birthday of our Republic.  We honored not only those who fought and died to defend our way of life, but the constitutional Republic for which they sacrificed. If we are to remain a beacon of hope and freedom for the rest of the world, it is incumbent upon us to ensure that we remain a nation of laws, and that out laws apply equally and fairly to us all.  Under President Obama, we have seen the most politicized Department of Justice in history; I very much hope that politicization has not similarly corrupted the Federal Bureau of Investigation.  I join my Senate Judiciary colleagues, including chairman Grassley, in calling for public transparency of, and full access to, all the information that the FBI used to come to today's dubious decision.

While I have tremendous respect for the dedicated men and women of the FBI, I have serious concerns about the integrity of Director Comey's decision, and how it threatens the rule of law.

Director Comey has rewritten a clearly worded federal criminal statute.  In doing so, he has come dangerously close to saying that grossly negligent handling of classified information should not result in serious consequences for high-level officials.  In a nation where the rule of law is supposed to matter, this is troubling.
Sen. Cruz is not the only GOP lawmaker to express concern about Director Comey's announcement.  As was referenced in Cruz's statement, Sen. Chuck Grassley, the Chairman of the Senate Judiciary Committee, also released a statement calling for Comey to provide additional information about the investigation.
Sen. Grassley stated:
While Director Comey made it clear that Secretary Clinton and her staff were 'extremely careless' in handling classified information, he also recommended no criminal prosecution even though 'gross negligence' regarding classified information is a crime. If it wants to avoid giving the impression that the FBI was pulling punches, because many people in a similar situation would face some sort of consequence, the agency must now be more transparent than ever in releasing information gathered during its investigation. Even Director Comey said there should be extraordinary transparency. That means more than simply giving the public a brief summary of his view of the facts. It should include the actual evidence so the public can make an educated decision on its own about the judgment and decision-making of all the senior officials involved. There are plenty of FOIA and congressional requests pending that have been on hold because of the ongoing nature of the investigation, so now the FBI should respond fully and completely to all of them.
The Senators' remarks indicate Director Comey will likely to continue to face questions over this matter in the weeks to come.  It is almost if his remarks this morning raised as many questions as it answered.
Have a tip we should know? [email protected]