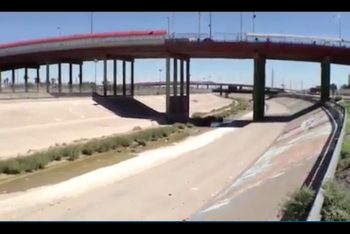 Last week, the United States Supreme Court agreed to hear an interesting case involving a U.S. Border Patrol agent who shot and killed a Mexican teenager on the border between Texas and Mexico.  The teen's family filed a lawsuit against the agent, alleging the shooting violated the U.S. Constitution's prohibition on excessive force.  The Supreme Court will now potentially decide whether the Constitution protects foreign citizens who are killed outside the United States.
According to The New York Times, the underlying incident occurred back in 2010 when Border Patrol agent Jesus Mesa, Jr. spotted Mexican teenager Sergio Hernández Guereca and a friend in a concrete culvert that serves as the dividing line between El Paso, Texas and Juarez, Mexico.  After being spotted, Guereca reportedly took off running back across the culvert. Agent Mesa remained on U.S. soil, but he fired shots at Guereca that struck and killed him after he made it back into Mexico.
Mexican courts indicted Mesa on murder charges, but the United States has refused to extradite Mesa.  A Justice Department investigation into the incident determined no criminal or federal civil rights charges could be filed against Mesa.  The DOJ further claimed the teens were throwing rocks at Border Patrol agents. However, cellphone video of the incident reportedly raises questions about whether Guereca was throwing rocks at the time.
Guereca's family filed a civil lawsuit against agent Mesa in federal court, but it was dismissed by the trial judge.  On appeal, the full panel of the Fifth Circuit Court of Appeals upheld the dismissal by relying on a 1990 Supreme Court case that held constitutional rights only apply with the borders, unless the plaintiff has a "significant voluntary connection" to the United States.
Lawyers for Guereca's family argue that the Fifth Circuit's interpretation creates a "a unique no-man's land — a law-free zone in which U.S. agents can kill innocent civilians with impunity."
On the other side, the Obama Administration has argued that U.S. courts are not the proper venue to hear cross-border shootings based on these circumstances.  They argue Mexican courts are the appropriate venue because the death occurred in Mexico.
Shawn Moran, a spokesman for the National Border Patrol Council, told AZCentral.com his union is "very concerned" that the Supreme Court agreed to take the case.
It's very hard for me to understand how a non-citizen in a foreign country has the standing to sue the U.S. government," Moran told the local news outlet. "It has far reaching implications beyond the U.S. border."
Have a tip we should know? [email protected]