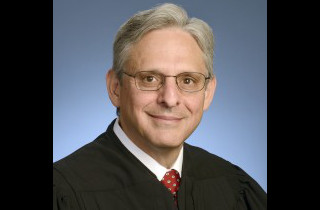 Supreme Court nominee, Merrick Garland, made an unannounced speech on Thursday morning at an annual breakfast event that pays tribute to law firms active in pro bono work.
According to Politico, it is highly unusual for any judicial nominee, let alone a Supreme Court nominee, to make a speech at a public event during the confirmation process.  However, very little has been usual about the Garland nomination so far.  For example, the report says a White House camera crew was on hand to film Judge Garland's remarks.
It was an uncontroversial and relatively short speech, according to Politico. Judge Garland spoke for about five minutes in front of approximately 100 lawyers and judges in the atrium of the federal courthouse in Washington, D.C.
"[Y]our commitment to public service and the law is the same commitment that has shaped the choices that I have made thought my career," Judge Garland said in his remarks.
The Politico report says Judge Garland also addressed the importance of pro bono legal work in "maintaining public confidence in the legal system, especially among the poor."
"Without legal assistance poor individuals and families have no real access to justice," Judge Garland said. "Without access to justice, the promise of equal justice rings hollow. Without equal justice under law, faith in the rule of law the foundation of our civil society is at risk."
As LawNewz.com previously reported, Senate Majority Mitch McConnell, citing the "Biden Rule," has refused to hold confirmation hearings on Judge Garland's nomination.
[image via U.S. Court of Appeals District of Columbia Circuit]
Have a tip we should know? [email protected]