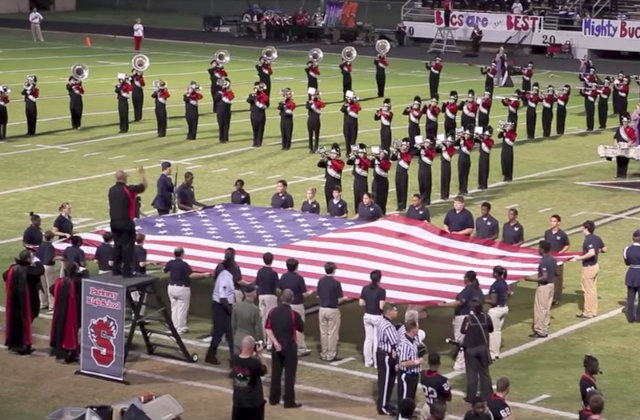 A top school official in Louisiana is now requiring student athletes and club members to stand during the national anthem.
"It is a choice for students to participate in extracurricular activities, not a right, and we at Bossier Schools feel strongly that our teams and organizations should stand in unity to honor our nation's military and veterans," wrote Bossier Parish Schools Superintendent Scott Smith in a letter released Wednesday.
On Thursday, Principal Waylon Bates of Parkway High School, which lies in the parish, followed suit, saying that athletes who break the rules could lose playing time.
"Continued failure to comply will result in removal from the team," he wrote in a letter obtained by The Shreveport Times.
On Friday, President Donald Trump referred to NFL players who knelt during the national anthem as "son of a bitch," and said it would be good if they were fired. In response, players from multiple teams, including the Baltimore Ravens and Jacksonville Jaguars, pointedly knelt during the anthem. Proponents of kneeling during the anthem argue that it is done in opposition of police violence against people of color. Critics insist that this is disrespectful to military service-members. When Law Newz wrote about it at the time, legal experts agreed that teams could discipline players if kneeling somehow breached their contracts–free speech, as defined by the Constitution, does not apply to private employment. The League itself does not require them to stand for the anthem, however.
The picture is different when it comes to public schools. These are government entities, and therefore subject to the First Amendment. After the 1943 Supreme Court decision in West Virginia State Board of Education v. Barnette, it is unconstitutional for school officials to make students take the pledge of allegiance during class. This ruling also covers the national anthem. The reasoning is that government cannot make people say what they don't mean.
But in Wednesday's letter, Smith seems to be staking out different territory, legally speaking. Professor Catherine Ross, a First Amendment expert at George Washington University, told Law Newz that appellate courts are split as to whether student clubs, including sports, are a right or a privilege. It is pretty obvious that Smith is staking out his policy on the latter.
Ross points out that his position is stronger if reasonable observers interpret kneeling by student athletes as bearing the approval of the school. In other words, it is seen as the school's own speech.
"The school district is entitled to avoid that confusion," she pointed out. That said, Ross argues that it is likely, at least in context of recent media coverage, that reasonable observers will understand that kneeling is speech by the students, not the school itself. Ross, author of the 2015 book Lessons in Censorship: How Schools and Courts Subvert Students' First Amendment Rights, also argues that these kinds of policies fail to teach students about the importance of free speech in society.
"When schools curb speech, students don't learn why free expression is critical to democracy," she said in a 2016 USA Today op-ed. "Instead, they receive a message that free speech can be sacrificed for a competing social good. That message undermines an unwavering First Amendment premise: The best cure for objectionable speech is more and better speech."
[Screengrab of 2012 football opening ceremony at Parkway High School in Bossier City, Louisiana via E Harris]
Have a tip we should know? [email protected]