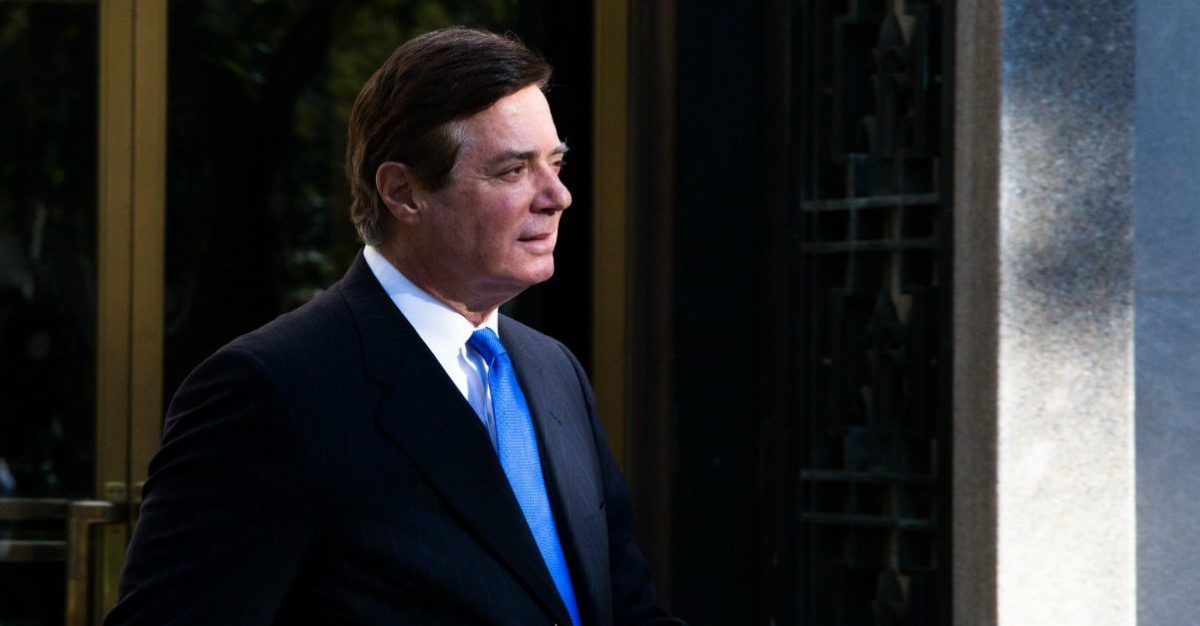 Convicted felon Paul Manafort, whose attorneys say is in poor mental and physical health at 69 going on 70 behind bars, has time and again asked for permission to wear a suit as he rides out his legal troubles in court. While unsuccessful in the past, this time around Manafort got exactly what he wanted.
U.S. District Judge Amy Berman Jackson granted Manafort quite the reprieve on Thursday. Berman Jackson, who is currently presiding over the dispute between Manafort and Special Counsel Robert Mueller regarding an alleged breach of a cooperation deal, has allowed Manafort to wear a suit to all future proceedings for this case in D.C. federal court.
"It is ORDERED that defendant is permitted to wear a suit at the January 25, 2019 hearing and any future court appearances in this matter," Berman Jackson said.
It appears to be an act of mercy from the judge.As Law&Crime's Colin Kalmbacher has noted before, "criminal defendants during the trial stage are constitutionally entitled to appear in non-prison attire if they timely make such requests–on the basis that appearing in prison clothes before a jury would be unduly prejudicial and therefore potentially violate the 14th Amendment's guarantee of Due Process."
"Criminally convicted defendants are not entitled to the same wardrobe choices," he added.
It could also be seen as a compromise. Manafort didn't want to appear at a Friday hearing, but Berman Jackson on Wednesday insisted that he did so. Manafort's attorneys countered with the suit request.
Recall that it was Berman Jackson who got Manafort thrown in jail pending trial in the first place. After Mueller accused Manafort and Russian national Konstantin Kilimnik of witness tampering, Manafort's pre-trial release status was revoked and he was jailed — at Berman Jackson's order.
Manafort has been jailed ever since, and he's been wearing prison clothes.
Manafort wasn't so lucky when he ran into the judicial version of King Thwomp — that is, U.S. District Judge T.S. Ellis III. In August, when Manafort was convicted on eight counts of bank fraud and tax evasion in Ellis' Eastern District of Virginia courtroom, he went to jail at the Alexandria Detention Center and put on his prison garb. By October, Manafort's attorneys asked Ellis if their client could wear a suit rather than the prison clothes he had earned. Ellis said Manafort should be treated no differently than any other person "in custody post-conviction."
Then came the bad news: Never again can you wear a suit in my courtroom.
"[D]efendant's motion to wear street clothing to all future proceedings is DENIED," Ellis said.
Lucky for Manafort, who has become known for his fashion sense, the D.C. court was kinder.
[Image via Keith Lane/Getty Images]
Have a tip we should know? [email protected]