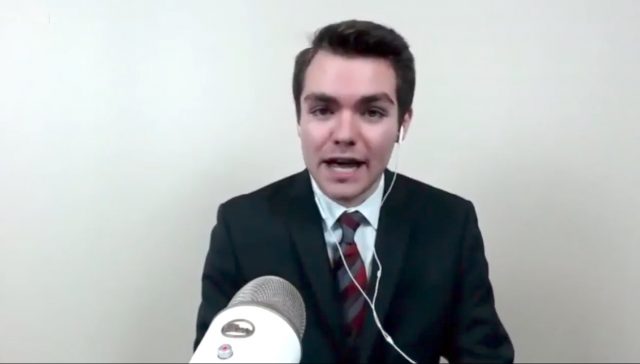 An 18-year-old (former) student at Boston University is calling it quits after being outed for his white nationalist views.
Nicholas Fuentes attended the deadly "Unite the Right" rally in Charlottesville, Virginia where a few hundred white supremacists gathered to stoke fear and racial tension. At that rally, Heather Heyer was killed and 19 additional people were injured, some severely, in an attack allegedly committed by suspect James Alex Fields Jr.
Fuentes, personally, has "no regrets" about his contribution to the white nationalist movement and rally. He said:
"I went to represent this new strain of conservatives, of people in the right wing who are opposed to mass immigration and multiculturalism. For a long time, this existed on the fringes. I thought it was a political victory – we exposed the removal of Confederate statues, and this disenfranchised group of white males."
In the aftermath of the ugliness that befell Charlottesville, white nationalists have been exposed by users of social media. Fuentes is not the first student targeted for his attendance at the rally. Peter Cvjetanovic, a white nationalist student at the University of Nevada, Reno, is the target of an online petition calling for his ouster. As of today, that petition has nearly 36,000 signatures.
James Allsup, a student at Washington State University, was forced to resign from his position as the leader of the College Republicans there. Both Allsup and Cvjetanovic plan to remain students in spite of very public opposition to them doing so.
Fuentes, though, is giving up on his present university.
While speaking with Fox News, he claimed to have received "death threats" for months prior to his outing and the culmination of that along with the backlash to his views on race have prompted him to leave. He said:
"I suddenly got dozens of messages on Twitter and Facebook telling me to go and kill myself and that if they see me they will beat the sh– out of me. Stuff of that nature. At least 10 to 20 of them were death threats."
A spokesperson for Boston University confirmed that Fuentes dis-enrolled last week.
He's now taking a semester off and plans to attend Auburn University in the spring.
[image via screengrab]
Follow Colin Kalmbacher on Twitter: @colinkalmbacher
Have a tip we should know? [email protected]