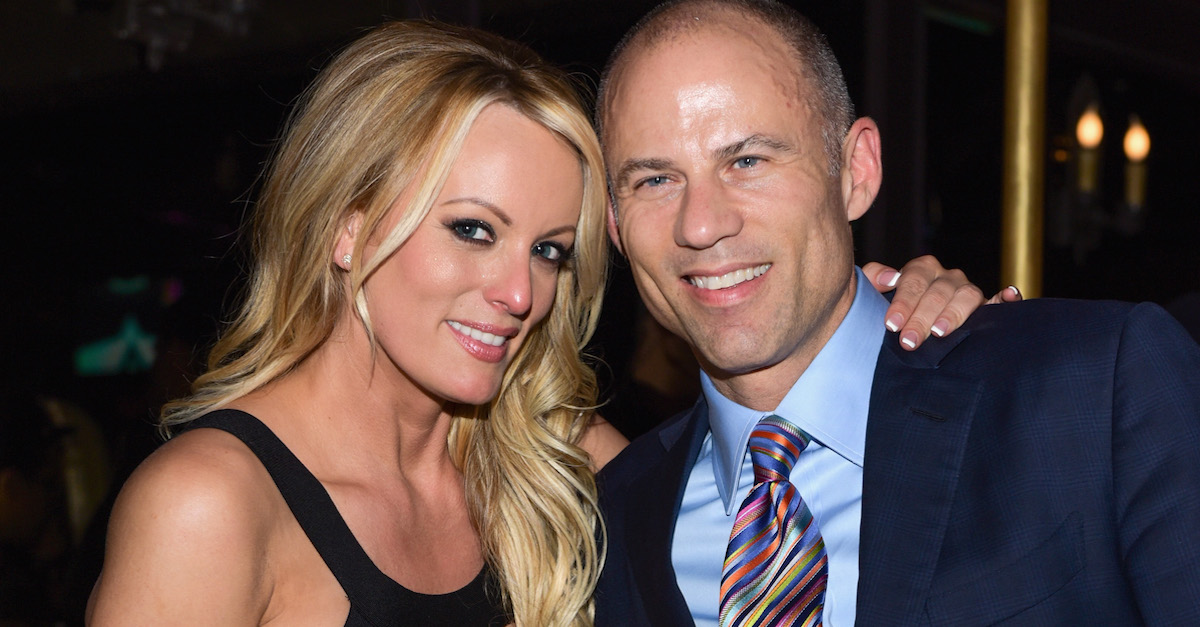 Porn star Stormy Daniels (real name Stephanie Clifford) filed a lawsuit Wednesday in Los Angeles Superior Court alleging that her ex-attorney Keith Davidson and Donald Trump attorney Michael Cohen "colluded" against Daniels and tried to set up an appearance on Sean Hannity's show.
The documents show that Daniels is accusing Davidson of communicating with Cohen for his benefit despite representing her and putting together the nondisclosure agreement (NDA).
"Mr. Davidson abdicated his role as an advocate and fiduciary of his client Ms. Clifford and instead elected to be a puppet for Mr. Cohen and Mr. Trump in order to advance their interests at the expense of Ms. Clifford," the lawsuit reads. Daniels accused Davidson of violating attorney-client privilege by tipping Cohen off to the fact that she was getting a new lawyer.
Among the details too was an apparent attempt to get Daniels on Hannity.
Texts Cohen and Davidson reportedly exchanged on Jan. 17, 2018 after In Touch Magazine dug into the archives:

Cohen: "I have [Daniels] tentatively scheduled for Hannity tonight."

Davidson: "She cannot don't [sic] today. She is flying to LA tomorrow. I'm trying to get her to commit for tomorrow."
Then later:
Cohen: "The wise men all believe the story is dying and don't think it's smart for her to do any interviews."

Davidson: "100%."

Cohen: "Thanks pal."
During a phone call in February, Davidson is alleged to have "secretly tipped Mr. Cohen off to Ms. Clifford's plans" as to her new legal representation.
Daniels' attorney Michael Avenatti shared reacted to the news, saying "This is a search for the truth and we will find it and expose it."
"These text messages show that the prior denials by Mr. Trump and Mr. Cohen relating to what Mr. Trump knew and about the honesty of my client were absolute lies," Avenatti said in a statement. "There was a significant cover-up here as part of an attempt to deceive the American people and Mrs. Trump and we intend on getting to the bottom of it."
Last Friday, Avenatti released emails that showed Davidson had been keeping Cohen in the loop and vice versa on press inquiries about Daniels as recently as February.
"See below. Why were Mr. Cohen and Mr. Davidson communicating in this fashion earlier this year? It was entirely inappropriate and prejudicial to my client," he tweeted. "If Mr. Cohen had nothing to hide, then why go to these efforts to cover it up? #TrumpTapes #Basta"
The emails showed that Davidson forwarded an email to Cohen when contacted by CNN and Cohen forwarded an inquiry to Davidson when the Associated Press had questions. CNN asked Davidson questions like whether the $130,000 for Daniels' silence came from Trump's personal funds, Cohen's funds, the Trump Organization or the Trump campaign.
Davidson was still representing Daniels at the time he forwarded the CNN inquiry.
In a second email from February, Cohen forwarded AP questions about the breach of the NDA. They asked if Cohen disputed if the contract was breached, if he would release Daniels from the NDA or if he could address whether this was a "shakedown."
Dave Wedge, a spokesman for Davidson, told Law&Crime the following in a statement:
This outrageously frivolous lawsuit is yet another desperate attempt by Michael Avenatti to continue his 'publicity tour,' as well as divert attention from the recent allegations against him relating to bankruptcy proceedings and the failure to withhold millions of federal employee taxes. That said, Attorney Davidson is very happy that he has filed this lawsuit because he strongly believes that the filing constitutes a full and complete waiver of the attorney-client privilege. Thankfully, the truth can now finally come out to rebut the false narrative about Attorney Davidson that Mr. Avenatti has been pushing in his more than 175 television appearances and countless other media interviews. Attorney Davidson believes that the American people deserve to know the entire truth – and they soon will. This lawsuit has made that happen.
[Image via Tara Ziemba/Getty Images]
Have a tip we should know? [email protected]