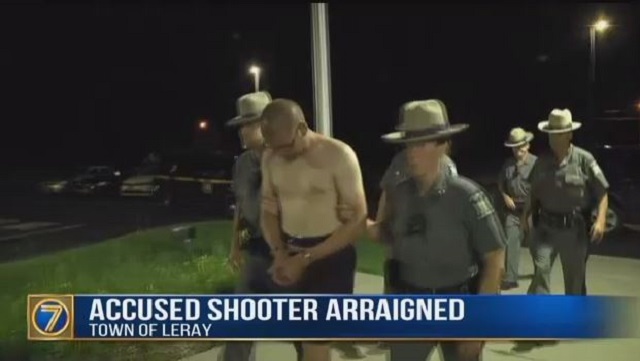 THERESA, N.Y. (AP) — A U.S. Army soldier was charged Monday with murder in the fatal shooting of a New York State Police trooper who was responding to a domestic dispute.
The suspect, identified as Justin Walters, 32, surrendered without incident after the trooper and Walters' wife were killed Sunday night at a home in the town of Theresa, near the Canadian border, New York State Police Superintendent George P. Beach II said.
Trooper Joel Davis, 36, responded to a call of shots fired shortly after 8 p.m. He was approaching the home when he was shot, Beach said. Walters' wife, 27-year-old Nichole Walters, also was found dead at the scene.
State police said Walters is an active duty U.S. Army infantryman who is stationed at nearby Fort Drum, home of the 10th Mountain Division. Information on Walters' military service wasn't available.
WWNY-TV in Watertown reported Justin Walters was clad only in shorts when he was brought to a town court around 4 a.m. Monday to be charged with first- and second-degree murder. He was ordered held in the Jefferson County Jail without bail. Walters didn't have a lawyer at the arraignment.
Police said a second woman living on the couple's property was also shot, but her injuries were not life threatening.
State police said Davis, of Evans Mills, graduated from the Basic School of the New York State Police Academy on May 29, 2013. He originally was assigned to the Troop D Watertown barracks before receiving his current assignment at the state police barracks in Philadelphia, just outside Fort Drum.
Davis is survived by his wife and three children.
In a statement early Monday morning, New York Gov. Andrew Cuomo said "the entire New York family grieves" for Davis.
"Trooper Davis served as a member of the New York State Police for four years and his death is yet another sad reminder of the risks law enforcement officers face each day in order to protect our communities and serve the residents of this great state," the Democratic governor said while urging New Yorkers to keep Davis' family, friends and colleagues in their thoughts and prayers.
[Image via screengrab]
Have a tip we should know? [email protected]