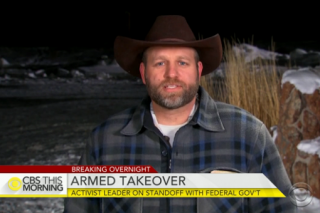 On Thursday, a jury acquitted Ammon Bundy and six other defendants after they took over a federal building in Oregon. It's not like certain facts are in dispute. Bundy and the other militiamen really did take over the Malheur Wildlife refuge in early January, and authorities couldn't kick them out until February. Nonetheless, a jury in a U.S. District Court found them not guilty on multiple counts, including weapons charges, and conspiracy to impede federal employees from discharging their duties.
So a verdict like this—for a case that has been highly publicized, and where the vast majority of observers said the defendants were guilty—has got quite a few people confused. How did this happen? NY Times columnist Nicholas Kristof suggested it had to do with race.
That post got over 1,000 comments as of Friday morning, and this one was emblematic of the responses.
Twitter users shared that skepticism. You'll note that some posts reference Native Americans. That's because demonstrators with the Standing Rock Sioux Tribe are standing against a pipeline being constructed. Protests have turned violent, with authorities using dogs and pepper spray on the mostly Native American crowd. So people are saying that Bundy and his crew weren't white, they'd have gotten the same treatment.
The BUNDY boys get a pass for armed theft but the NATIVE AMERICANS protecting water get shot at,attacked,pepper sprayed?! #NoDAPL

— Tabetha Wallace (@TabethaWatching) October 28, 2016
#Bundy gang acquitted because…. they're white? I mean, I can't think of any other reasonable explanation for it.

— Tom Wellborn (@TomWellborn) October 28, 2016
Police kill black folks & Dakota under attack daily, but after a 40 day standoff with police white American terrorist Ammon Bundy walks free

— Jason A. Gutekunst (@JasonGute) October 28, 2016
Any idea what the jury was thinking in the Bundy case? Any exit interviews? Did the prosecutor bungle the job that badly? Not push hard?

— Steven Torres (@writertorres) October 28, 2016
Terrorism is legal when ur whitehttps://t.co/ewFsaRpJVJ

— blank (@Sam_Humbel) October 28, 2016
Armed white settler Bundy ranchers acquitted, as militarized police repress peaceful protest of Native Americans at Standing Rock. #NoDAPL

— James J. A. Blair (@JJABlair) October 28, 2016
In court, Bundy said religious belief motivated the takeover. He called it a spontaneous decision.
–
Follow Alberto on Twitter (@Alberto Luperon)
Have a tip we should know? [email protected]