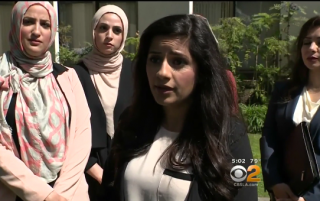 A cafe called the police to escort customers out for supposedly staying too long, violating their 45-minute policy. Sara Farsakh and the six other women  believe it was really because they're Muslim, CBS reported. They were sitting at the Urth Caffé in Laguna Beach, California.
"I truly believe had I been sitting there with my friends that were not wearing headscarfs, we would not have been asked to leave," Farsakh told CBS. "I felt embarrassed, outraged and shocked by the discrimination my friends and I were subjected to."
Farsakh alleged that two non-Muslim customers told her that they were seated at Urth Caffé before she and her friends arrived, and they weren't asked to leave. Farsakh also posted a video to Facebook that showed a number of empty tables at the restaurant.
Urth's founder posted on Facebook:
Urth Caffé categorically denies any and all claims of racial or religious discrimination against Sara Farsakh. It appears that Ms. Farsakh and her friends violated company policies. Urth Caffé neither condones nor tolerates discrimination of any kind.
[screengrab via CBS News]
Have a tip we should know? [email protected]