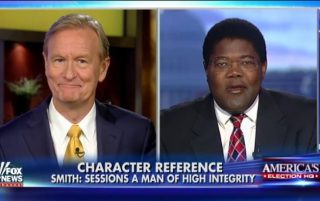 As soon as reports started buzzing that President-elect Donald Trump was considering Alabama Senator Jeff Sessions as his potential Attorney General, the media and internet lit up with concerns that the next head of the U.S. Justice Department would be a racist. The worries all stemmed from one particular report, that during confirmation hearings when Sessions was up for a federal judgeship in 1986, a federal prosecutor made harsh allegations against him that cost Seesions the position.
During his testimony, Thomas Figures — who is black — said that Sessions had called him "boy," and also joked about the KKK, saying that he thought they were OK until he learned they smoked pot.
WATCH: 
On Monday, William Smith, Sessions' former counsel, went on 'Fox & Friends' to dispute the allegations against the Alabama Senator. "The people who are making the allegations don't know Jeff Sessions," Smith said, saying that the person who first made the accusation had been "discredited over time." It's not clear what he was referring too. However, Figures, the former U.S. Department of Justice assistant attorney who was instrumental in blocking Sessions was reportedly indicted on bribery charges several years after his testimony. Smith, who Sessions hired to be the first black chief counsel on the Senate Judiciary Committee, described the current negative buzz as "false rumors."
In addition to casting doubt on the known accusations against Sessions, Smith noted that since 1986, there have not been any similar allegations about him. Not only that, but Sessions successfully fought for the death penalty against a KKK leader, and helped desegregate schools in Alabama. "He's just an outstanding guy," Smith said.
Have a tip we should know? [email protected]