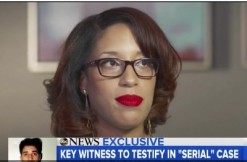 A defense witness for a convicted murderer went on Good Morning America to talk about evidence that may free him. Asia McClain says Adnan Syed was in their school library when prosecutors argue he killed Hae Min Lee in 1999.
"I was sitting in the library bored to tears, and someone [Syed, then 17] walked in that I knew," she said in the interview. "I asked him about his break up with Hae. She was dating someone else, but that he just wanted her to be happy. He didn't seem to be disturbed or angry with her."
Though McClain says she contacted Syed's then-attorney about this, she wasn't brought forth to testify during his initial trials. All this was revealed in a hit podcast, Serial.
In a recent post-conviction hearing, the 34-year-old Syed said he should be retried. He insisted cell tower evidence in his first trial was unreliable, and that McClain should've testified before his 2000 conviction. All his all, he said his then-attorney, Christina Gutierrez, did bad job, and that testimony by McClain could've led to his acquittal. McClain, in fact, finally testified at the hearing.
All this brought about an emotional statement from Lee's family. "Unlike those who learn about this case on the Internet, we sat and watched every day of both trials—so many witnesses, so much evidence," they wrote. They were adamant that Syed is guilty, and that his lawyer "did the best job she could have for him."
"Do I think Adnan killed Hae?" McClain said to GMA. "Honestly, I couldn't tell you. By coming forward, I hope that I was able to provide enough information to the judge for him to make a rational decision. Whatever that might be is in his hands."
The hearing lasted 5-days, ending on Tuesday without a ruling. Not only that, but there's none scheduled either, so the decision will come when it will come.
Lee, 18, disappeared Jan. 13, 1999, her body later found Feb. 9, 1999 in a Baltimore, Maryland park. Investigators settled on her ex-boyfriend, Syed, as a suspect. He was charged in her death, and convicted in 2000 after his first trial ended in a hung jury. The post-conviction hearing is part of a long appeals process.
[image via screengrab]
–
>> Follow Alberto Luperon on Twitter (@Alberto Luperon)
Have a tip we should know? [email protected]