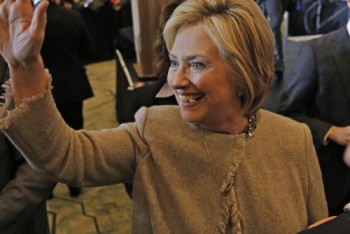 Although many have made a strong case that outgoing President Barack Obama should pardon Hillary Clinton before he leaves office, in view of the many threats incoming president Donald Trump has made to put her in jail (sic, prison) testimony this morning by Sen. Jeff Sessions that he would recuse himself from any investigations involving her activities greatly strengthens this case.
Senate Judiciary Committee Chairman Sen. Chuck Grassley, in asking how Sessions would deal with any investigations regarding Clinton, also recognized that same very distinct possibility.

Since both are indicating that such criminal investigations are clearly possible if not probable, and recognizing that the Justice Department will very soon be firmly in the hands of a party which has repeatedly condemned her allegedly illegal activities, the need for a presidential pardon to prevent not only unfairness to Clinton, but also to prevent a further rift between the two parties and among members of the public, is now much stronger.

This is true even if Sessions keeps his promise, since he cannot completely eliminate his influence on his hand-picked conservative Republican top staff.
There is clear precedent for a president to grant a "full, free, and absolute pardon" "for all offenses against the United States" even without naming any of the offenses.  Indeed, that's what President Gerald Ford did for Richard Nixon in order to prevent further "prolonged and divisive debate." The same argument could now easily be made regarding Clinton.
Ford's action was seen by some as controversial and divisive, and it may have used up his valuable political capital and weakened his presidency.  On the other hand, if outgoing President Obama does the same for Hillary Clinton just before he leaves office, it would not impede or undermine what he had already accomplished.
It should certainly be understood that, despite some reassuring but vague statements by Trump that he might not (but maybe will) still try to jail "crooked Hillary," Clinton might always be prosecuted based upon additional newly discovered evidence.
This new evidence could come from FBI investigators looking into her email problem, or investigating suspicions of criminal activity related to the Clinton Foundation, etc.   It could also come from congressional investigations.
For example, Republican House Member Jason Chaffetz, who leads the House Oversight and Government Reform Committee, has pledged that his committee would continue to investigate the matter because "we've got to get to the truth."
New evidence which might justify further investigation, and possibly even prosecution, could also come if new people encouraged to suddenly come forward, and/or from many other legal proceedings.
Judicial Watch, for example, which has already obtained thousands of pages of Clinton's State Department documents through litigation, is vowing to continue its legal onslaught despite her presidential defeat by Trump.
Even if there is in fact no evidence of criminal wrongdoing, it seem likely that forcing Ms. Clinton to go through additional Justice Department investigations could harm the Democratic party as well as Clinton herself.
Although outgoing Attorney General Loretta Lynch promised to follow the FBI's recommendations regarding this matter, there is no guarantee that the incoming political appointees just under Sessions at the Justice Department will do the same.

At the very least, Sessions and Grassley both suggest that some further investigation is certainly possible. A Clinton pardon might spare the country a great deal of unnecessary grief.
John Banzhaf is a professor at George Washington University Law School best known for his public interest activities related to smoking.  He has written extensively on the a wide range of other legal issues involving politics and the presidency.     
[image via shutterstock]
This is an opinion piece. The views expressed in this article are those of just the author.