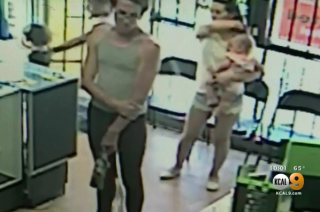 A family suffered a close call when a woman and her two children were in a store in Victorville, California, local authorities said on Wednesday. The mother was shopping on Friday, holding one of her children, while her 4-year-old daughter stood nearby. Store surveillance video shows them standing in line, when an arm reaches into the store and pulls the girl outside.
The mother, along with several bystanders, then ran after the suspect who was later identified as Terry Ransom.  The child managed to break free and witnesses told KCBS that the bystanders tackled Ransom and held him until authorities arrived.
San Bernardino County Sheriff's Department spokeswoman Mara Rodriguez said, "The victim was scared and upset but did not appear to suffer any physical injuries."
Deputies took Ransom into custody, where he faced possible charges for kidnapping and child cruelty.
Have a tip we should know? [email protected]