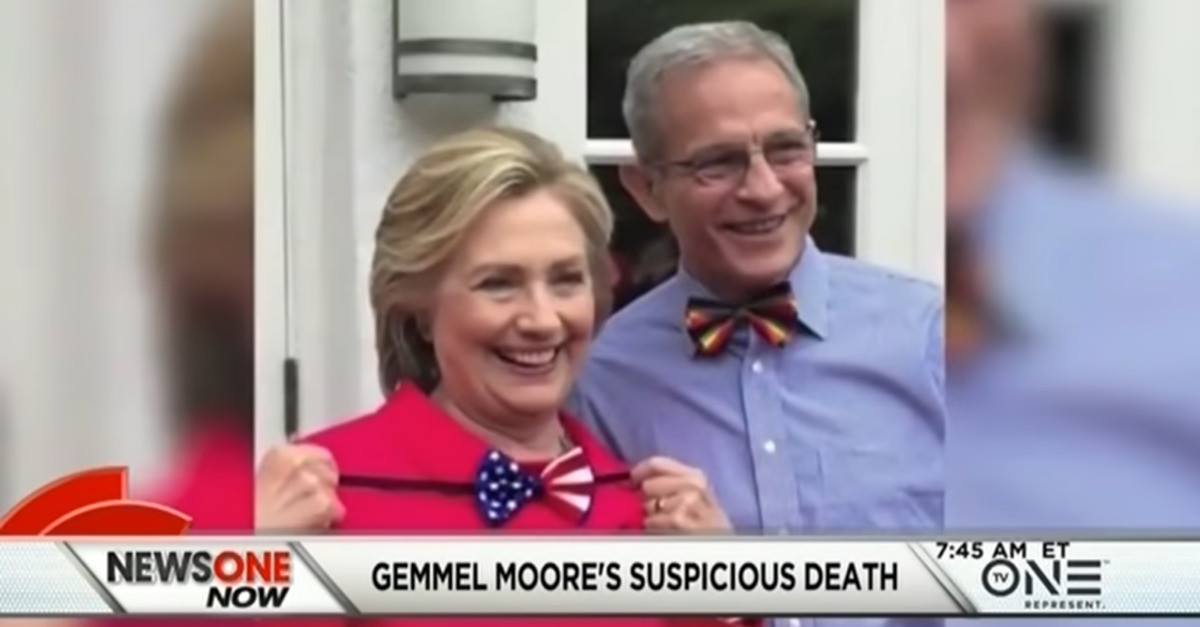 A black man was found dead in the home of Ed Buck–a 65-year-old white man and prominent donor to the Democratic Party with an alleged history of supplying drugs to young, African-American men.
According to WEHOville news, an unidentified black man was discovered at Buck's Laurel Canyon apartment Monday morning in West Hollywood–dead from a presumed overdose. The name of the dead man has yet to be released but the outlet suggests this is something of a pattern.
On July 27, 2017, 26-year-old Gemmel Moore was discovered dead at Buck's apartment. The L.A. County Coroner's office ruled Moore's death an overdose caused by methamphetamine.
A coroner's report said drug paraphernalia was found in the home, along with sex toys and clear plastic bags containing what was suspected to be methamphetamine. The L.A. County District Attorney's Office declined to prosecute Buck saying the evidence is "insufficient to prove beyond a reasonable doubt that (Buck) is responsible for the death of Gemmel Moore. Likewise, the admissible evidence is insufficient to prove beyond a reasonable doubt that suspect Buck furnished drugs to Gemmel Moore or that suspect Buck possessed drugs."
Buck's attorney, Seymour Amster, denied that Buck had any involvement in Moore's death.
"I think it's time to bring this tragedy to a conclusion," he said to WEHOville in November 2018. "This was an accidental death. This was an unfortunate death … but that doesn't mean we can make spurious accusations and spin something out of control."
"This was an unfortunate situation, this was a tragedy." Armster told the local NBC affiliate at the time. "But it does not justify accusing an innocent man of things that did not happen."
Moore, for his part, appeared to blame Buck for his addiction to drugs.
In August 2018, excerpts from Moore's journal were publicized in order to bolster a push for prosecuting Buck led by Moore's mother LaTisha Nixon. In one such excerpt from December 2016, Moore wrote that he has "become addicted to drugs and the worst one at that. Ed Buck is the one to thank."
According to OpenSecrets, Buck has donated tens of thousands of dollars to multiple Democratic Party candidates over the past few election cycles–including presidential contender Hillary Clinton. A longtime political activist, Buck also previously ran for elected office and has supported various progressive causes throughout the years.
The hands-off approach from authorities in West Hollywood prompted quite a bit of ire–and criticism from community leaders.
"City Council members John D'Amico and Lindsey Horvath have reached out to City Manager Paul Arevalo, asking him to request that newly elected Sheriff Alex Villanueva put priority on investigating his death," WEHOville notes. "Councilmember Lauren Meister also has pressed for the homicide division to investigate."
Jasmyne Cannick is a communications and public affairs strategist who previously worked with Gemmel Moore's family. In a statement obtained by WEHOville, Cannick announced that there will be a rally held Monday night outside of Buck's apartment calling on the Los Angeles Sheriff's Department to arrest Buck and for District Attorney Jackie Lacey to "prosecute him for murder after another young Black gay man was found dead in his West Hollywood apartment of an apparent overdose."
Law&Crime reached out to Armster for comment on this story, but no response was forthcoming at the time of publication.
[image via screengrab/TV ONE]
Have a tip we should know? [email protected]