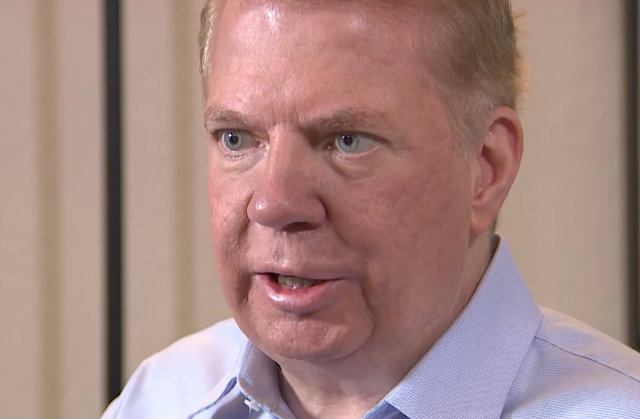 Seattle Mayor Ed Murray sexually abused his foster son, according to a partially redacted report obtained by The Seattle Times. He has denied that claim, saying the now-grown Jeff Simpson had behavioral problems, and accusing the media outlet of cherry-picking records. This allegation and others has already changed his political career.
Here's the important bit from the partially redacted report.
"In the professional judgement of this caseworker who has interviewed numerous children of all ages and of all levels of emotional disturbance regarding sexual abuse, Jeff Simpson has been sexually abused by … Edward Murray," said Judy Butler, a caseworker for Child Protective Services, in a May 20, 1984 assessment.
Simpson lived with him for a year-and-half as a teenager. He reportedly made his first accusation under questioning in April 1984, after he was taken away from Murray, and slashed his left wrist.
On May 14, 1984, Multnomah County Deputy District Attorney Mary Burns Tomlinson wrote Butler that her office investigated Murray for abusing Simpson. Though they dropped the case, that didn't mean the prosecutor thought Simpson's claim was false.
Wrote Tomlinson:
It was Jeff's emotional instability, history of manipulative behavior and the fact that he has again run away and made himself unavailable that force my decision. We could not be sure of meeting the high burden of proof in a criminal case – of proof beyond a reasonable doubt and to a moral certainty.

However, this in no way means that the District Attorney's Office has decided that Jeff's allegations are not true.
Murray has emphatically denied the Simpson allegations, and others, saying these could be politically motivated. Three other men also claimed the Mayor sexually abused them decades ago as minors. Lloyd Anderson, Levon Jones, and then-15-year-old Delvonn Heckard, who sued in April. Heckward withdrew his lawsuit in June, but plans to refile after Murray gets out of office.
The mayor's term ends this year. Murray, a gay progressive Democrat, won't resign over all this, but it has led him to stop pursuing reelection. Voters will pick his replacement in a November 7 general election.
The mayor's attorney Katherine Heekin argued that the CPS assessment doesn't mean anything.
"Oregon's Child Protective Services is supposed to err on the side of believing a child's accusations," she wrote the Times on Saturday. "The agency is not responsible for judging sex abuse cases. It merely investigates allegations of sex abuse. In contrast, law enforcement is responsible for determining whether or not a crime may have happened. Here, there was no indictment, no charges filed, no conviction, and no crime."
She accused the outlet of stepping over the line by "taking the place of law enforcement and the District Attorney's Office, act as judge and jury without a full vetting and disclosure of the facts that were available to law enforcement in 1984, rewrite history, and mislead the public."
The outlet first gave Murray copies of the investigative records on Tuesday. He said he didn't even know about the CPS assessment, and added that he would've appealed it if he did. His attorney and he questioned why state officials didn't tell him about all this.
Murray has argued that Simpson had a lot of difficult behavior as a teen.
"He got angry at every foster parent that he'd ever been involved with," he said. He told the times on Thursday that they "cherry-pick" records.
As for Simpson, now 49, he seemed glad to hear about the CPS assessment.
"Wow," he told the outlet last week. "Wow. Thank you, Jesus."
Simpson, who first publicized his claim in 2007, has acknowledged that his history could make him difficult to believe. His criminal record up to 2004 included burglaries, robberies and drug dealing. He has kept his nose clean since then.
"I get it," Simpson told the Times in an April report. "I understand, my past is less than stellar," later saying, "People did think I was nuts and nobody wanted to believe it. But I felt I needed to tell the truth, finally tell the truth."
[Screengrab via KING 5]
Have a tip we should know? [email protected]