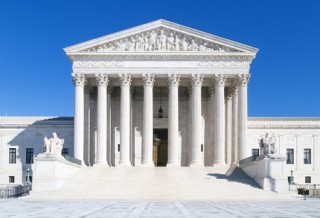 A police officer shot and killed a man at his home during a standoff, but didn't identify himself as a police officer. The victim's family sued, claiming that cops on the scene acted improperly, but the Supreme Court ruled on Monday that the case isn't so simple.
It all started when two women spotted Daniel Pauly driving erratically, and they called 911 to report a "drunk driver." Two officers responded and met with the women after Pauly had driven home. The officers knew they didn't have enough information to arrest Pauly, but they wanted to talk to him anyway, and looked up his address from the license plate number the women gave them. Officer Ray White, who showed up later, remained at the scene for a while, as his colleagues, Officers Michael Mariscal and Kevin Truesdale went to the house.
According to court documents, Mariscal and Truesdale covertly approached the house, not announcing their presence until Pauly and his brother Samuel noticed them and shouted, "Who are you?" and "What do you want?" The officers responded by saying, "Hey, (expletive), we got you surrounded. Come out or we're coming in," and Truesdale claimed he said, "Open the door, State Police, open the door." Daniel Pauly claimed that neither he nor his brother heard them say they were cops. When Mariscal and Truesdale threatened to enter the house, the brothers grabbed guns and announced that they were armed. That's when things went south.
Officer White finally arrived at the scene just in time to hear one of the Pauly brothers say, "We have guns," and see Daniel Pauly fire a shotgun twice. Samuel Pauly then pointed a handgun at White, court records say. Mariscal fired at Samuel and missed, and then White shot and killed the man.
Daniel Pauly and Samuel's estate argued in their suit that all three officers acted improperly by not adequately identifying themselves as police to warn the men, and violated Samuel's Fourth Amendment rights when they used deadly force. All three officers moved for summary judgment, with White's case going separately before the Supreme Court, arguing that his actions fall under "qualified immunity," meaning that there was no established law against what he did. The Tenth Circuit Court of Appeals had ruled against him, saying that there was clearly established law that an officer in White's situation should know that he had to identify himself and warn Samuel to drop his gun before using deadly force, even if he was in danger, and that White and the other officers should have expected the Pauly to defend their home from unknown intruders. The Court of Appeals did recognize that White's case was different from his colleagues though, as he didn't show up at the scene until later, when the action was already taking place.
The Supreme Court disagreed, saying that White — or an officer in his position — could reasonably assume that the officers who arrived at the scene before him had already identified themselves as police officers, making it unnecessary for him to do the same. "No settled Fourth Amendment principle requires that officer to second-guess the earlier steps already taken by his or her fellow officers," the Court's order said. As a result, the decision of the Court of Appeals is vacated and the case was sent back down to the District Court.
White v Pauly by LawNewz on Scribd
Have a tip we should know? [email protected]