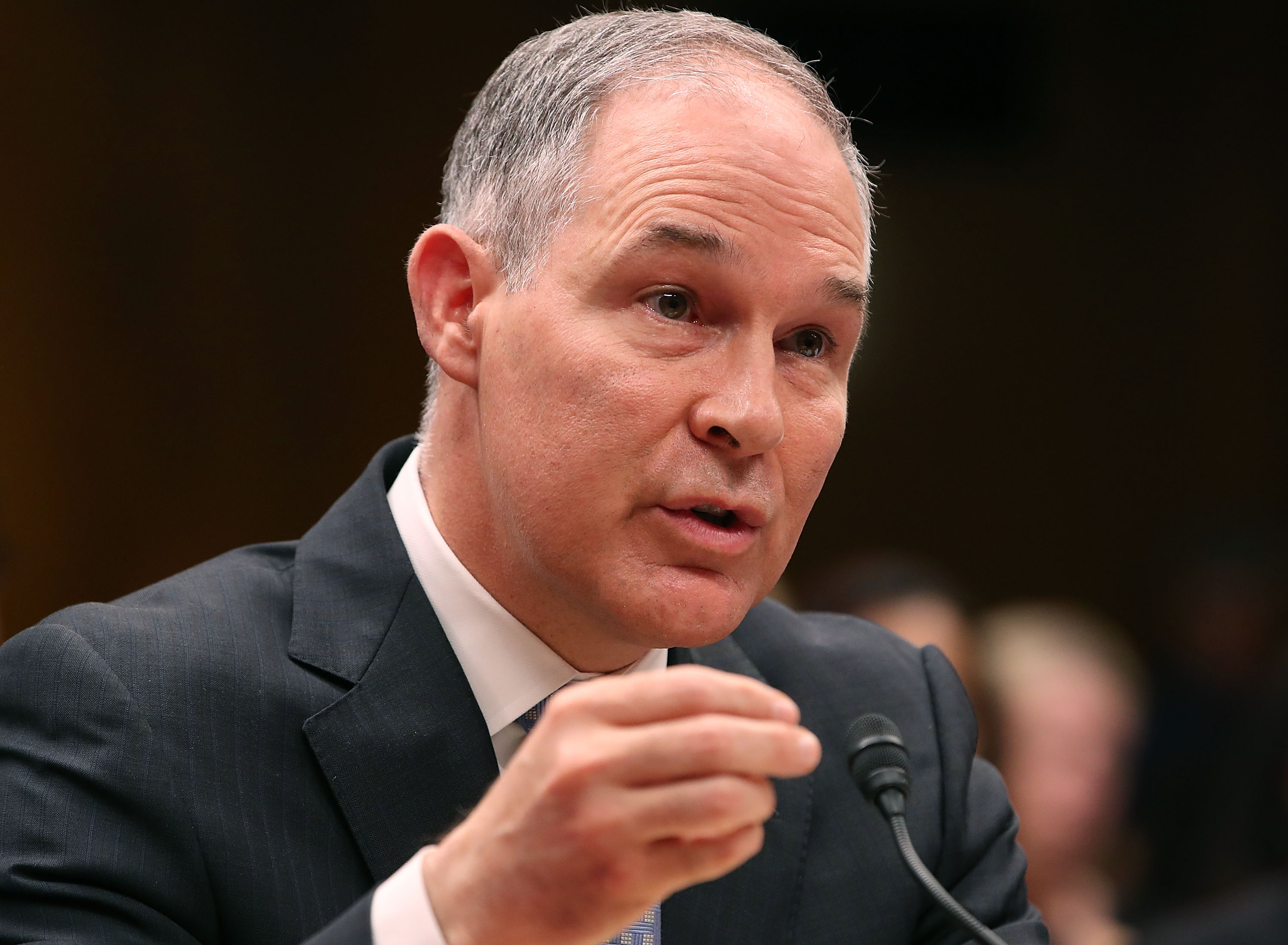 Roughly three months after taking office, Environmental Protection Agency Administrator Scott Pruitt had his executive scheduler make a strange outreach request. The subject of that request wasn't rising methane levels or industrial effluent standards. Rather, it was a fried chicken franchise for his wife.
Using the public's money and the public's time, Pruitt's assistant, Sydney Hupp, reportedly emailed Chik-Fil-A President and Chairman Dan Cathy, in order to discuss "a potential business opportunity." According to the Washington Post, an arranged phone call between the two was cancelled but Pruitt eventually spoke with someone from the chicken sandwich maven's legal department.
In comments to the Post, Chick-fil-A representative Carrie Kurlander said:
The subject of that phone call was an expression of interest in his wife becoming a Chick-fil-A franchisee. Administrator Pruitt's wife started, but did not complete, the Chick-fil-A franchisee application.
Mrs. Pruitt's chicken-centric ambitions never saw the ultraviolet light of a fast food joint's lobby.
A series of emails recently released under a Freedom of Information Act initiated by the Sierra Club reveal that Pruitt's job search for his wife continued on for at least a while longer.
Again, from the perch of his public office, Pruitt approached the CEO of Concordia, a New York-based nonprofit organization which describes itself as promoting "effective public-private collaboration to create a more prosperous and sustainable future."
That executive, Matthew Swift, told the Washington Post that he paid Marlyn Pruitt some $2,000–plus travel expenses–to help organize the group's annual conference last year. In other words, Swift appears to have acknowledged that Mr. Pruitt's emails to Concordia resulted in Mrs. Pruitt personally enriching herself and the Pruitt family.
Law&Crime reached out to Concordia for further details on the Marlyn-Concordia business relationship and what impact, if any, Scott Pruitt's entreaties to Swift had on that business decision. No response was forthcoming at the time of publication. Similar efforts to contact the EPA went unanswered as well.
Notably, this is at least the 14th scandal enveloping Pruitt and his EPA since the former Oklahoma lawmaker took the reins of the nation's leading conservation agency. And this latest controversy finds Pruitt accused of violating federal ethics laws.
Jordan Libowitz, a director at Citizens for Responsibility and Ethics in Washington told the New York Daily News, "There are pretty strict prohibitions of using people who work for you in the government to do things for you for your personal benefit."
Don Fox, former head of the federal Office of Government Ethics under the Barack Obama administration, told the Post:

It's not much different if he asked the aide to facilitate getting a franchise for himself. It is a misuse of the aide's time to ask the aide to do something like this that is really for personal financial benefit.
[image via Mark Wilson/Getty Images]
Follow Colin Kalmbacher on Twitter: @colinkalmbacher
Have a tip we should know? [email protected]