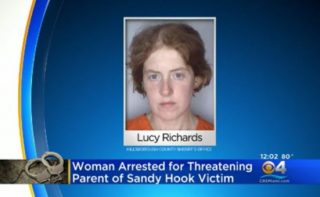 The U.S. Department of Justice announced on Wednesday that a Florida woman was indicted for allegedly threatening the mother of a child killed in the 2012 shooting at Sandy Hook Elementary School in Newtown, Connecticut. Lucy Richards allegedly made repeated death threats to the victim's mother on January 10, 2016.
According to the indictment, Richards told the other woman, identified in court documents as L.P., "you gonna die, death is coming to you real soon," and "LOOK BEHIND YOU IT IS DEATH," among other, similar statements. Richards somehow believed that the school shooting never took place, according to the DOJ's press release.
Richards is facing four counts of transmitting threats through interstate communications, and faces a maximum of five years in prison for each one. She is due in federal court in Fort Lauderdale on December 19.
[Screengrab via CBS4]
Have a tip we should know? [email protected]