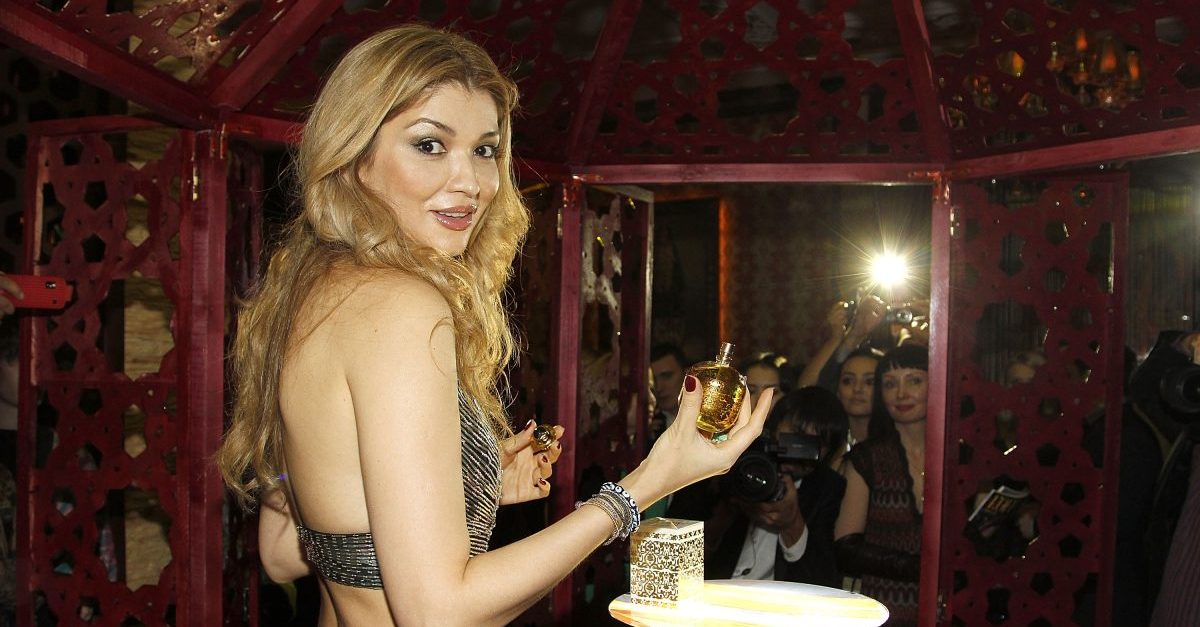 The U.S. Department of Justice announced on Thursday that the largest Russian telecommunications firm, Mobile Telesystems PJSC (MTS), has agreed to pay $850 million to the United States as a criminal penalty in what they called "one of the largest Foreign Corrupt Practices Act ('FCPA') bribery schemes ever charged." The case involves the daughter of the former president of Uzbekistan and the former general director of MTS subsidiary Uzdunrobita.
The case centers on charges against Gulnara Karimova, a current Uzbek government official whose father was once president, and Uzdunrobita executive Bekhzod Akhmedov. Karimova is pictured above. Akhmedov allegedly "helped orchestrate the massive bribery scheme" to pay $865 billion to Karimova "on behalf of MTS and two other telecommunications companies, VimpelCom Ltd. ('VimpelCom') and Telia Company AB ('Telia'), and their Uzbek subsidiaries," the DOJ said in a press release. In addition to being the largest Russian telecomm company, MTS also issues publicly traded securities in the U.S.
The indictment, filed in the Southern District of New York on Wednesday, alleges that the scheme went on from roughly 2001 to 2012. In exchange for the payments, Karimova–as an Uzbek government official–allegedly used her influence to make sure the companies received telecommunications licenses.
Both Karimova and Akhmedov are accused of laundering money through American banks in order to hide the alleged bribery scheme.
Karimova, who has been described as an Uzbek "princess," is documented to have socialized in the past with high-profile personalities including Hollywood stars, the British royal family, and President Bill Clinton. According to the Daily Mail, Former British ambassador Craig Murray once likened her to a James Bond villain.
Charges were also filed against MTS and another of its subsidiaries, Kolorit Dizayn Ink LLC, for allegedly "conspiring to violate the FCPA by paying more than $420 million in bribes" to Karimova through Akhmedov, the press release said. Kolorit pleaded guilty on Wednesday, and MTS reached a deferred prosecution deal, whereby they agreed to pay $850 billion in penalties. That money includes a $500,000 criminal fine and $40 million in criminal forfeiture on behalf of Kolorit. They also agreed to cooperate with an ongoing federal investigation.
MTS also settled a civil case with the U.S. Securities Exchange Commission, whereby it agreed to pay $100 million, which the DOJ agreed to count towards its penalties in the criminal case.
"This is the third installment in a trilogy of cases arising from an almost $1 billion bribery scheme that reached the highest echelons of the Uzbekistan government and was orchestrated by some of the largest telecommunications companies in the world," said SDNY U.S. Attorney Geoffrey Berman. "By funneling multimillion-dollar bribe payments through the U.S. financial system, the companies and individual defendants corruptly tried to tip the global economy in their favor and line their own pockets.  But they are now paying the price."
[Image via Yves Forestier/Getty Images for Style.Uz Art Week]
Have a tip we should know? [email protected]