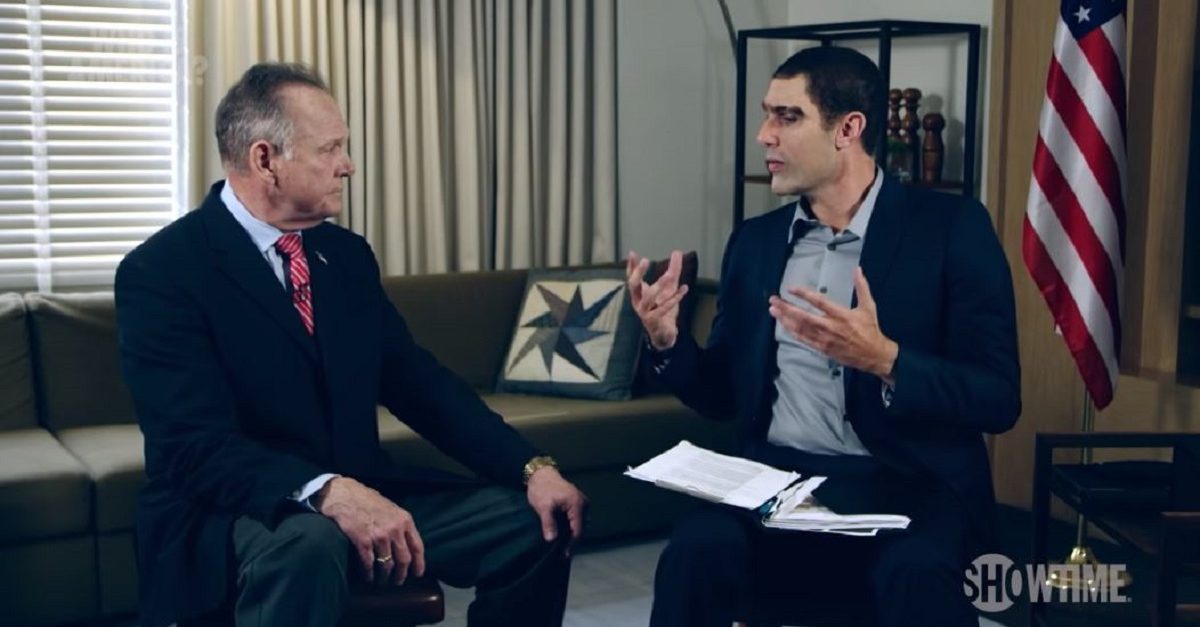 Former Alabama Senate candidate Roy Moore filed a lawsuit against comedian and actor Sacha Baron Cohen after a segment on Cohen's cable series "Who is America?" showed Moore giving an interview with Cohen, who was disguised as fictitious Israeli counter-terrorism expert Erran Morad.
Moore characterizes the premise of the show by saying that Cohen "falsely and fraudulently induces unsuspecting victims, such as Judge Moore, to be interviewed under dishonest, unethical, illegal and false pretenses," setting them up "for ridicule and to severely humiliate them[.]"
The complaint claims that Cohen falsely brought Moore in for an interview with Yerushaliym TV, an Israeli station that does not really exist, and that Moore and his wife were to be honored with an award.
In the segment, Cohen posed as Morad, and "falsely painted, portrayed, mocked and with malice defamed Judge Moore as a sex offender, which he is not," the complaint says.
In the interview, Morad discusses a fake Israeli technological innovation that detects sex offenders, and pedophiles in particular. He then points a device–purported to use such technology–at Moore, and it beeped.
"It must be faulty," Morad says. "It's malfunctioning."
Morad then waves the device over himself and someone else, and it was silent.
"I've been married for 33 years. I've never had an accusation of such things."
"I am not accusing you at all!" Morad says. He then says the machine is 99.8 percent effective, while again saying, "I am not saying you're a sex offended at all," as Moore walked off the set.
"I support Israel, I don't support this kind of stuff," Moore says, shaking hands with Morad and exiting.
When Moore ran for Senate in 2017, he faced several accusations that he had relationships with teenage girls in the past, including an allegation that he sexually assaulted a 16-year-old in 1977 when Moore was 30.
Moore claims that as a result of the segment–which aired in the third episode of "Who is America?"–he suffered "widespread ridicule and humiliation" and "severe loss of reputation." He also claims that he, his wife Kayla, and their family suffered emotional distress and financial damage, "especially given his status as a prominent conservative and a God fearing person of faith."
The complaint, brought by Moore and his wife, makes allegations of defamation, fraud, and intentional infliction of emotional distress. The lawsuit is seeking $95 million and names Cohen, Showtime, and CBS as defendants. Moore claims that once he learned the truth about the segment, he warned that he would take legal action if Showtime aired it, and that the release he signed was signed under false pretenses.
Law&Crime reached out to CBS and for comment. A spokesperson for Showtime told Law&Crime:
The press has been sent copies of an alleged complaint, yet to our knowledge SHOWTIME has not been served. With that said, we do not comment on pending litigation.
Note: This article has been updated with a statement from Showtime.
[Image via Showtime screengrab]
Have a tip we should know? [email protected]