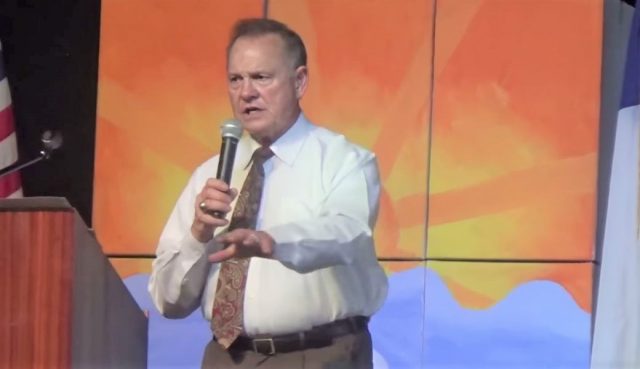 Accused pedophile and Republican Senate candidate Roy Moore once said the last time America was great was when slavery still existed.
During a campaign event, Moore was addressed by one of the few African-American attendees in the audience. The disgraced judge was asked when he last thought America as "great." Moore then apparently acknowledged the nation's ugly history viz. race and racism. Then, he said:
I think it was great at the time when families were united–even though we had slavery–they cared for one another…Our families were strong, our country had a direction.
The comments were originally issued by the doctrinaire GOPer in September of this year, but were likely overshadowed by Moore's prior scandals having to do with the candidate's finances and for similarly off-putting racial comments where he referred to Native Americans and Asians as "reds and yellows."
Soon after that series of financial scandals, Moore became a household name after allegations from multiple women that the former judge had pursued, harassed and sexually abused them while they were minors and teenagers.
Moore's slavery-neutral comments are likely to draw ire from pretty much everywhere–especially in the wake of Trump and the Republican National Committee recently reversing course and firmly endorsing Moore.
The slavery comments are now making the rounds likely due to the fast-approaching special election in Alabama. On December 12, voters in the Yellowhammer State will vote to fill the U.S. Senate seat vacated by Attorney General Jefferson Beauregard Sessions III.
According to multiple opinion polls, Moore is currently running neck-and-neck with Democratic Party candidate Doug Jones, a former prosecutor famous in Alabama for successfully prosecuting the Ku Klux Klan.
[image via screengrab]
Follow Colin Kalmbacher on Twitter: @colinkalmbacher
Have a tip we should know? [email protected]