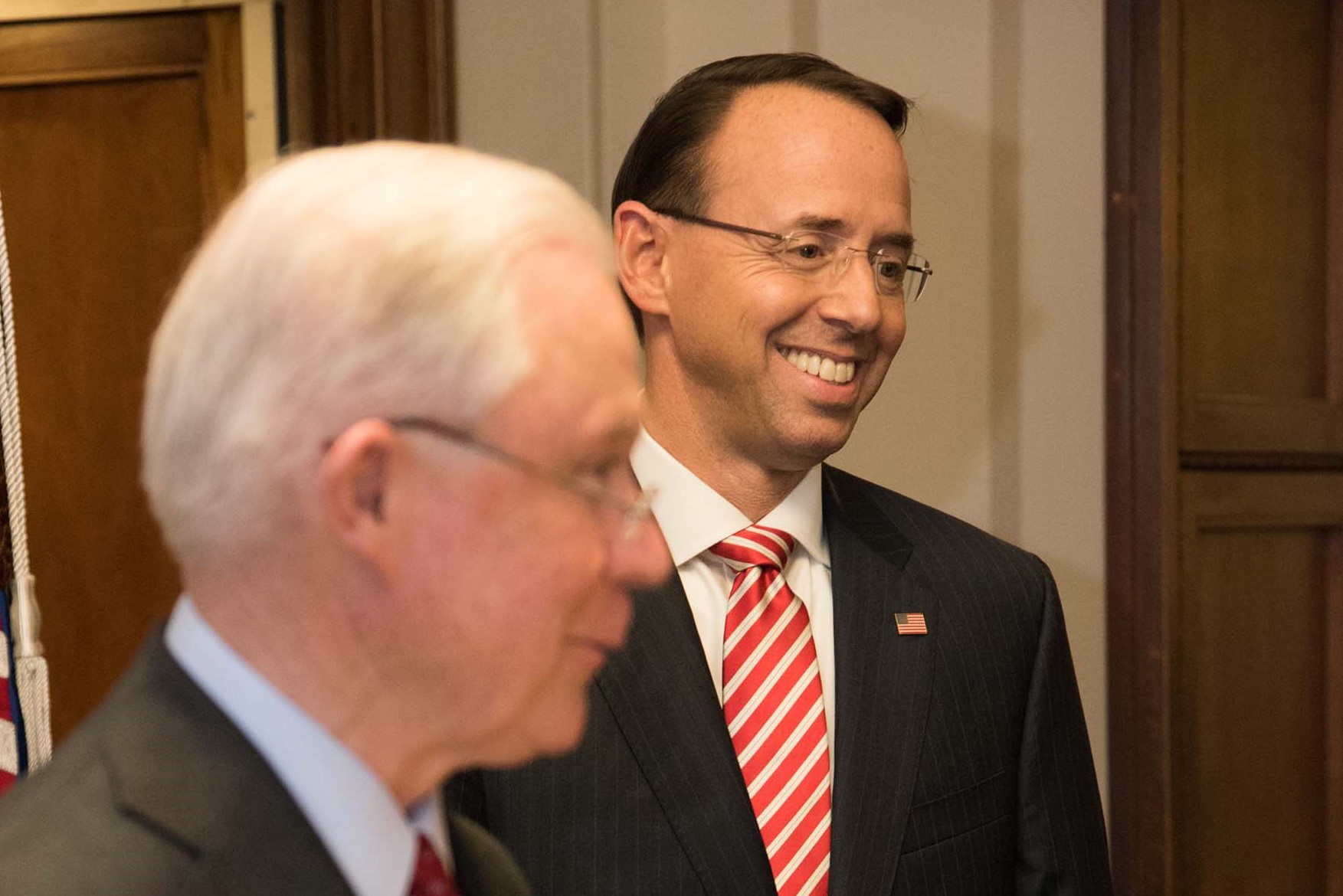 Deputy Attorney General Rod Rosenstein isn't too worried about looming impeachment threats emanating from the House of Representatives. In fact, he appears almost combative.
During a lengthy question-and-answer session Tuesday at the Newseum in honor of Law Day, Rosenstein fielded various questions about America's legal climate in general–and some pointed questions as well.
Near the end of that session, Rosenstein was asked to respond to reports that the House Freedom Caucus had drafted articles of impeachment against him over allegedly stonewalling their document requests related to Russia and other hot-button GOP bugbears.
In response to that question, the deputy attorney general more or less rubbished the premise. Rosenstein said he had nothing to say about documents that congressman don't have the "courage" to put their names on. Then, he added:
There are people who have been making threats, privately and publicly, against me for quite some time. And I think they should understand by now, the Department of Justice is not going to be extorted.
Law&Crime reached out to Freedom Caucus Chair Mark Meadows (R-NC) office for comment on this story, but no response was forthcoming at the time of publication.
Rosenstein was also asked about the "need for a free press" language disappearing from the U.S. Attorney's Manual. Rosenstein said the issue was overblown and criticized the media's framing as "misleading." Rather, Rosenstein said, the section was tightened up to focus on confidentiality responsibilities of employees. He added that the First Amendment is protected by the U.S. Constitution–not the U.S. Attorney's Manual.
Another notable interaction occurred when Rosenstein was asked what he thought was the most serious threat to the rule of law in America today. Rosenstein said:
I don't think there's any threat to the rule of law in America today.
[image via U.S. Department of Justice]
Follow Colin Kalmbacher on Twitter: @colinkalmbacher
Have a tip we should know? [email protected]