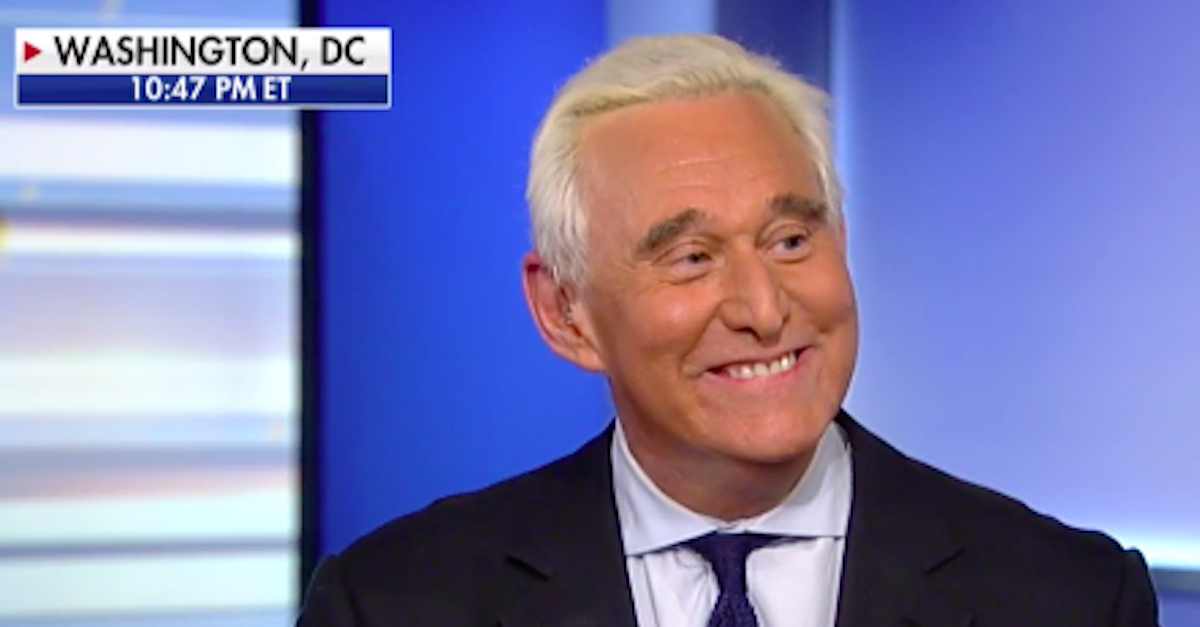 If you've had the news on at any point over the past several days, there's a good chance you saw Roger Stone on your screen. The political operative who is now facing charges for allegedly making false statements and obstructing justice has made multiple appearances on Fox News with more likely to come, and has given interviews to CBS, ABC, and others.
Often, people in the middle of legal cases are advised not to comment publicly, but Stone has taken the opposite approach. Tuesday night, Stone explained to Fox News' Laura Ingraham that he wants to keep talking, because he believes that if an accused person stays silent, people assume they're guilty.
Pretty soon, however, Stone may be forced to stop talking, at least about his criminal case. As noted by Politico, Judge Amy Berman Jackson, who is hearing Stone's case, has a history of issuing gag orders. She recently ordered one in Paul Manafort's case, and could do the same at Stone's next court appearance, which is scheduled for Friday.
Should this happen, don't expect Stone to just accept it.
Grant Smith, an attorney representing Stone, told Law&Crime, "Mr. Stone would vigorously defend his 1st Amendment rights." Smith said that while there have been no discussions of a gag order, Stone would likely have an opportunity to present an argument against one at a hearing, should the judge raise the possibility of one.
Additionally, Stone has reportedly already hired a First Amendment lawyer, which could signal that he plans to appeal any order. He's also reportedly arranged for friends to speak on his behalf, in the event that he and his legal team are barred from speaking out as the case goes on.
One of those potential spokespeople, Michael Caputo, has already addressed the issue, telling Politico, "If they put a gag order on him I'm quite certain he'll fight it." Given Stone's penchant for publicity, a gag order seems likely, if Judge Jackson's words during the Manafort case are any indication.
"This is a criminal trial, and it's not a public relations campaign," the judge said early on in that case.
Since Stone's interviews appear to be just that—a PR campaign—she may very well look to quash it immediately.
[Image via Fox News screengrab]
Have a tip we should know? [email protected]