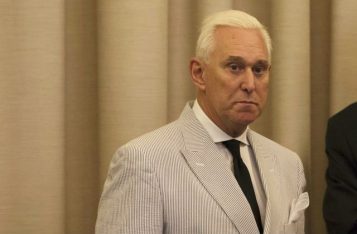 Democrats have frequently pointed to claims made by controversial political advisor Roger Stone as evidence of a possible connection between the Trump campaign and Wikileaks, and possibly even Russia.
Stone sent out a tweet in August saying Clinton campaign manager John Podesta's "time in the barrel" was coming.  The tweet received new attention in October after Wikileaks began publishing thousands of documents purportedly hacked from Podesta's email account.  Podesta himself even accused the Trump campaign of having advance warning about the hack based, in part, on Stone's tweet.
The rumors have persisted as Stone has generally remained somewhat cagey about his alleged connection to Wikileaks.  However, Stone gave an interview on Wednesday in which he finally provided at least some additional details about how he learned of the Podesta hack.
Stone told the Guardian newspaper he has a "mutual friend" with Wikileaks founder Julian Assange.  Stone claimed his contact is an "American libertarian" who works in the media on the "opinion side."  Stone further claimed the person has met with Assange in London and serves as a "back channel" for him (Stone) with Wikileaks, providing tips about upcoming disclosures.
Stone stressed there was no connection between the Trump campaign and Wikileaks.  He also said the FBI has not contacted him about any of his alleged connections.
"There is nothing to investigate," Stone told the newspaper.
[image via Lev Radina/shutterstock]
Have a tip we should know? [email protected]