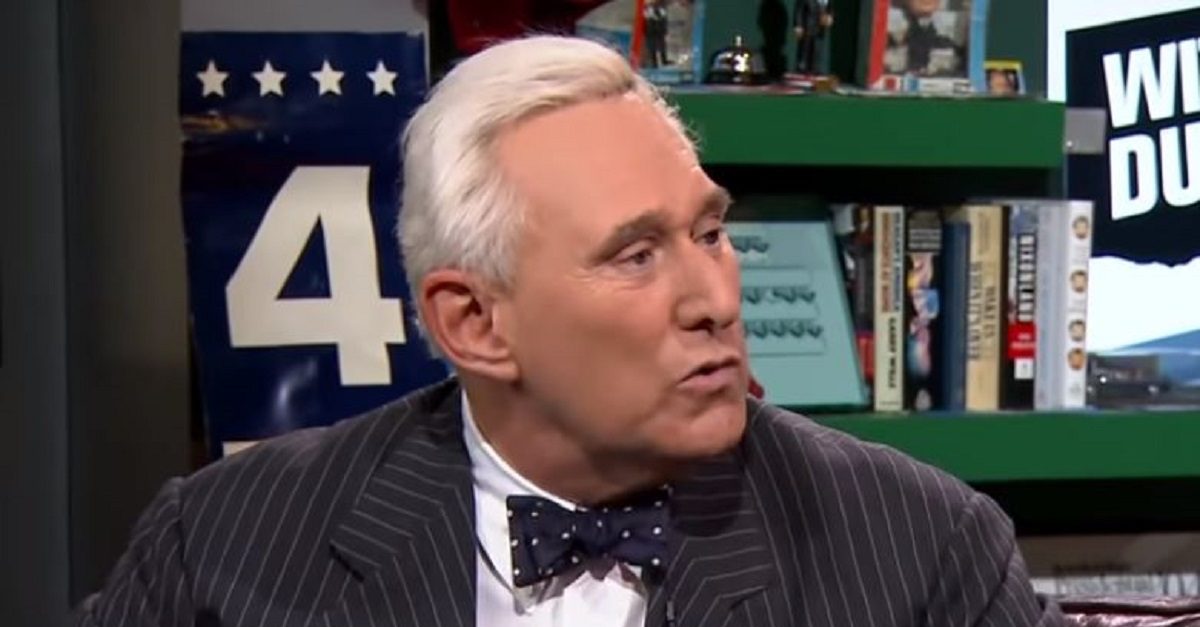 Long-time Donald Trump confidant and political operative Roger Stone submitted a court filing on Wednesday to say that Special Counsel Robert Mueller and his team have been leaking to the press.
Stone asked the judge to consider whether Team Mueller violated a court order sealing his indictment "until his arrest." Stone claims they may have violated the order with the "premature release of a draft copy of the sealed indictment, enabling news media to attend and witness Stone's 6 a.m. arrest."
Stone, acknowledging the false statements, obstruction and witness tampering charges he's facing, claimed that a CNN reporter on scene for his arrest sent his lawyer a copy of a draft version of the of the "still sealed indictment," adding that the "copy of the unsigned indictment provided by the reporter appears to have come from the Special Counsel's Office." They said the reporter acknowledged that the document was obtained from the Special Counsel's Office. Stone claimed that metadata of the PDF file showed that "AAW" was the author and used the Justice Consolidated Office Network (JCON), the Department of Justice's network.
From the filing:
The metadata does not establish that "AAW" sent the "draft" of the sealed indictment to the reporter who texted it to Mr. Stone's counsel on January 25, minutes after the arrest. But it does mean that a person with privileged access to a "draft" of Roger Stone's Indictment, identical to that which had been filed under seal and which was stamped "sealed" in red, with the appropriate PACER markings, had – in violation of the Court's Metadata describes and gives information about other data. A document's metadata contains facts relating to the author, the computer and network on which it was created, the time it was created, etc. Metadata travels with a document unless a program is used to strip it out of the document.
Note that they don't accuse "AAW" but accuse someone with privileged access — i.e. someone from Mueller's office. There had been stories more than a week ago on such sites as Russia Today and One America News Network identifying Mueller prosecutor Andrew Weissmann as the source of the leak. Law&Crime reached out to the Special Counsel's Office to ask for Weissmann's middle name, but they declined to comment.
"The metadata on the 'draft' indictment provided by a reporter while Stone was being arrested, established that it came from an 'AAW' author or computer. That a member of the Special Counsel's office has the initials 'AAW,' supports a reasonable inference that that office is responsible for the unlawful public disclosure of a grand jury document sealed by order of the Court," the filing concluded.
The filing was immediately panned as "not serious."
In summary, Stone is complaining that CNN got a copy of the indictment four minutes after the DOJ posted its copy.
Stone makes new complaint a… on Scribd
[Image via Bloomberg screengrab]
Have a tip we should know? [email protected]