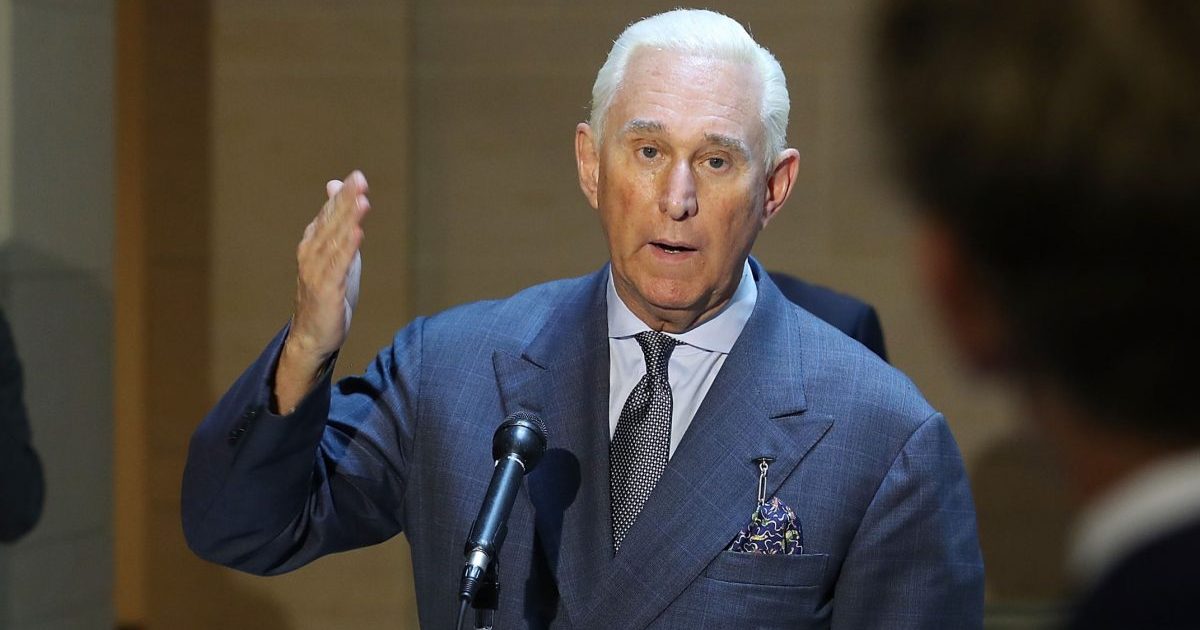 Roger Stone really stepped in it this time. Federal judge Amy Berman Jackson ordered Stone to appear in his courtroom on Thursday afternoon to explain to her face why she shouldn't punish him for posting a picture of her on Instagram that appeared to show crosshairs next to her head. Stone said that was a "misinterpretation" of the image. Either way, the photo Stone called a "random" one from the internet was found on some interesting websites. 
At any rate, Judge Jackson, who memorably threw Stone's longtime associate Paul Manafort in jail for violating the conditions of his pre-trial release, had an opportunity to do that to Stone, too — or, to a lesser degree, hand down a more severe gag order. She agreed that what Stone did was "indefensible," but took a brief break after hearing the wild testimony to make a decision.
When she came back from her chambers, Judge Jackson decided to enhance the gag order, prohibiting Stone from making any public statements about the case "period." He can only raise legal funds for his defense and declare he is innocent.
The judge said she was concerned that Stone "chose to use his public platform and chose to express himself in a manner that can incite others that feel less constrained."
She further said, "There's nothing ambiguous about crosshairs," that Stone "decided to pursue a strategy of attacking others," and that she wasn't swayed by his apology.
"It's the lawyers, not Mr. Stone, who were appalled. So thank you for the apology, but it rings quite hollow," the judge said.
Let's recap how all of this went. Before Stone even showed up to court, his Instagram account had a few more things to say:
In the second post, Stone shared a Bible quote: "Isaiah 41:10 So do not fear, for I am with you; do not be dismayed, for I am your God. I will strengthen you and help you; I will uphold you with my righteous right hand." After the verse ended, Stone added the hashtags #rogerstonedidnothingwrong, #maga, and #trump.
Reporters on scene took note of some of the little things, once Stone arrived:
Roger Stone has entered the courthouse for his 2:30pm hearing. He's wearing a gray double-breasted suit, a blue and white striped shirt, a light blue tie, and a blue-hued patterned pocket square

— Zoe Tillman (@ZoeTillman) February 21, 2019
Attorney Bruce Rogow, who was brought on to Stone's team to handle "all matters related to the office of the special counsel and all constitutional matters, such as first amendment issues that may arise," began by arguing that Stone should get another chance to comply with the court's demands. Stone's lawyers were also open to putting Stone on the stand to explain what happened, even though this opened him up to cross examination.
This was regarded as a mistake by some and a necessity by other legal analysts.
No choice if he wants to stay out. His lawyers are right to decline to make factual representations on his behalf.

— Ross Garber (@rossgarber) February 21, 2019
Once Stone did get on the stand, he admitted he did something "stupid," but claimed that the Instagram post in question was the "outgrowth of the extreme stress of the situation."
"This was an egregious, stupid error for which I apologize to the court," he said.
Judge Jackson asked if Stone's social media handlers knew how to use Google and how to find photos that do not contain crosshairs in it.
Stone says he relies on volunteers for certain things, he's not technologically proficient. Jackson asks if he knows how to search google for images and if his volunteers know how to do that. Stone says yes. Jackson asks, How hard is it find a photo that didn't have crosshairs?

— Zoe Tillman (@ZoeTillman) February 21, 2019
"How hard was it to come up with a photograph that doesn't have crosshairs in the corner?" she asked.
Stone said that a volunteer chose the image and that he posted it. He also claimed he didn't remember who this volunteer was, and apparently struggled to name others. Stone further claimed that he had no "malicious intent" in posting the image and acknowledged that he should have not posted anything about the judge in the first place.
"I'm kicking myself over my own stupidity," he said.
The judge found it hard to believe that Stone didn't remember who gave him the photo, but Stone said he does have five or six volunteers working for him. Stone admitted this wasn't the only image he had of Jackson, but said he deleted them to avoid the same outcome.
Although prosecutors said Stone's account of what happened on his Instagram account was "not credible," they only asked for a more restrictive gag order, rather than requesting that Stone be jailed pre-trial. Stone's lawyers agreed that what their client did was "indefensible."
The judge replied, "I agree with you there."
The judge had already warned Stone that the case is "a criminal proceeding and not a public relations campaign" or "a book tour" before she decided to impose a gag order on all parties in the case. She specifically barred Stone from speaking outside on the courthouse steps, where Stone has grown accustomed to raising a Richard Nixon salute before speaking to the press — even as frenzied political opponents serenade him with "Lock him up" chants.
[Image via Mark Wilson/Getty Images]
Have a tip we should know? [email protected]