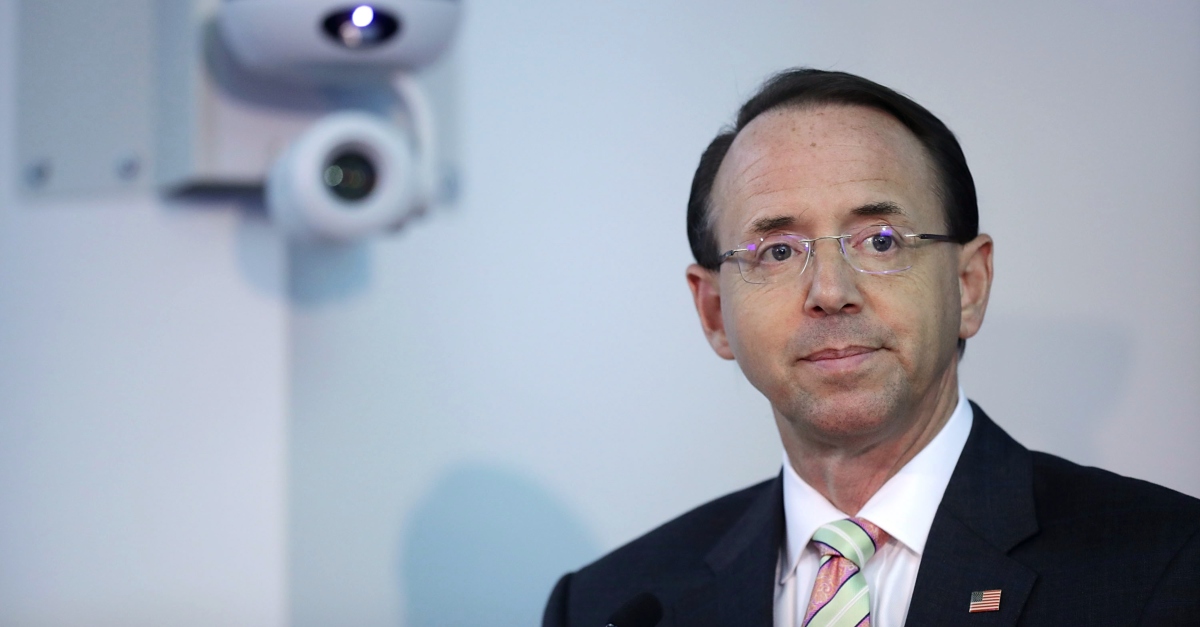 Fired FBI deputy director Andrew McCabe is making the rounds for a book tour and resurrected claims that Deputy Attorney General Rod Rosenstein, the man who appointed Robert Mueller as special counsel, proposed wearing a wire during meetings with President Donald Trump and considered invoking the 25th Amendment.
McCabe's interview with 60 Minutes grabbed headlines as CBS' Scott Pelley says he was told that, yes, "There were meetings at the Justice Department at which it was discussed whether the vice president and a majority of the cabinet could be brought together to remove the president of the United States under the 25th Amendment."
https://twitter.com/NorahODonnell/status/1096020537069977600
When the wire and 25th Amendment talk popped up in September, Law&Crime reported on it with skepticism. McCabe critics are currently pointing out that the Office of the Inspector General determined that he lied ("lacked candor") to investigators on a number of occasions. McCabe eventually lost his job.
Back in September, Rosenstein said words that he would repeat again today: "Inaccurate and factually incorrect." People who were in the room, according to the Washington Post, also said the "wire" recording was a joke and that the 25th Amendment was not mentioned. The Justice Department also said it was a joke.
Rosenstein, through a Department of Justice spokesperson, reacted on Thursday to the McCabe interview in a statement sent to CNN. 
"As to the specific portions of this interview provided to the Department of Justice by 60 Minutes in advance, the Deputy Attorney General again rejects Mr. McCabe's recitation of events as inaccurate and factually incorrect," the statement began. "The Deputy Attorney General never authorized any recording that Mr. McCabe references. As the Deputy Attorney General previously has stated, based on his personal dealings with the President, there is no basis to invoke the 25th Amendment, nor was the DAG in a position to consider invoking the 25th Amendment."
"Finally, the Deputy Attorney General never spoke to Mr. Comey about appointing a Special Counsel. The Deputy Attorney General in fact appointed Special Counsel Mueller, and directed that Mr. McCabe be removed from participation in that investigation," he added. "Subsequent to this removal, DOJ's Inspector General found that Mr. McCabe did not tell the truth to federal investigators on multiple occasions, leading to his termination from the FBI."
There are few notable things to take from this. For one, Rosenstein does not deny that he mentioned invoking the 25th Amendment or that he discussed wearing a wire. He said that he wasn't "in a position to consider invoking" it and said that his "personal dealings" with Trump show that there is "no basis" for doing so. This, of course, does not address Rosenstein's views of Trump's dealings with others, which is what McCabe was harping on regarding the firing of James Comey. He also says that he never "authorized" a recording, which is different from discussing one.
Nor is there mention, as there was last time, that Rosenstein was joking or being sarcastic. Rosentein says that McCabe's "recitation of events" was inaccurate and factually incorrect, but doesn't go into specifics about that. The special counsel recently pushed back on a BuzzFeed report claiming that Trump had directed Michael Cohen to lie to Congress in a similar way. The special called the report "inaccurate." The lack of specificity led to speculation that there was some truth to the report.
Rosenstein finished his statement by highlighting that McCabe didn't tell the truth and made sure to distance McCabe from the Mueller appointment.
As Law&Crime reported earlier Thursday, McCabe also got an excerpt of his book published by the Atlantic on Thursday. That selection touched on the aftermath of Comey's firing and the decision to appoint Mueller as special counsel.
[Image via Chip Somodevilla/Getty Images]
Have a tip we should know? [email protected]