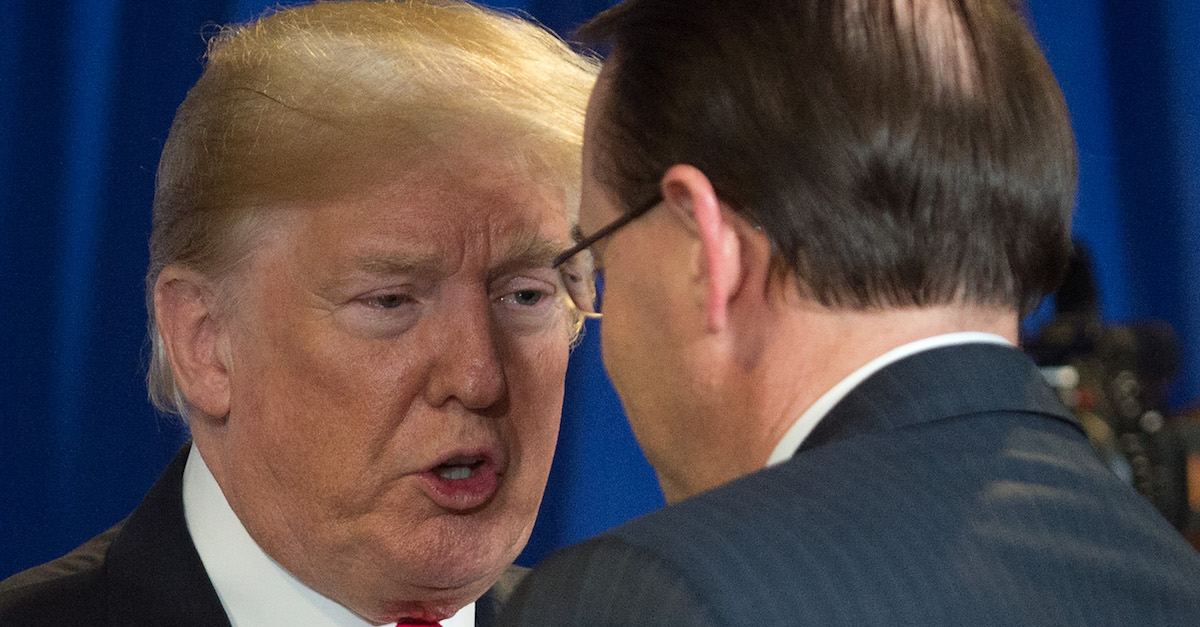 In his last days as Deputy Attorney General of the United States, Rod Rosenstein no longer bears the responsibility of overseeing Special Counsel Robert Mueller's investigation. As pundits speculate on and journalists prepare for what's next regarding Mueller's Russia report, could it be that Rod Rosenstein, the man who appointed Mueller as special counsel, has the best idea of what to expect?
Rosenstein wrote a 12-page letter to Senate Judiciary Committee Chairman Chuck Grassley (R-Iowa) on June 27, 2018 that's just now gaining renewed attention. In the letter, Rosenstein lays out exactly what Congress should expect Mueller to do and not to do. You might call it a "road map," as ABC's Jonathan Karl did. You can expect Mueller's report not to drag uncharged individuals through the mud and you can expect it not to deviate from department policy.
"As we seek to do in all cases, the Department of Justice will complete the Special Counsel investigation as promptly as is feasible. When the investigation is finished, I anticipate that any objective and nonpartisan review will conclude that the Department consistently sought to make reasonable decisions and to comply with applicable laws, regulations, policies, and practices," Rosenstein set the stage.
At the time Rosenstein wrote this letter, Jeff Sessions was still Attorney General. Matthew Whitaker served as acting Attorney General from Nov. 7, 2018 to Feb. 14, 2019. William Barr has since been confirmed to the role of Attorney General for the second time in his career, having served in the George H.W. Bush administration.
It is interesting that Rosenstein mentioned Barr twice in this letter.
"Special Counsels have been appointed for a variety of matters throughout history. For example, Attorney General William Barr appointed three Special Counsels from outside the Department of Justice during his 14-month tenure," Rosenstein said in one place.
"In 1989, then-Assistant Attorney General William Barr wrote that misunderstandings often arise because congressional investigations, by their nature, are usually adversarial and unbounded by the rules of evidence," Rosenstein said in a second place.
Rosenstein then made sure to contrast what will be done with the Mueller appointment with what James Comey decided to do in the Hillary Clinton email case. Comey is the FBI director Trump controversially fired and whose subordinates, like Andrew McCabe, responded by opening an obstruction of justice probe of the president. The Mueller appointment was also a response to the Comey firing.
In 2016 and 2017, then-Director Comey made disclosures to the public and to Congress that he has acknowledged would not have been appropriate under regular order. He maintains that his 2016 statements to the public and to the Congress about the Hillary Clinton email investigation were justified by unique circumstances comparable to a "500-year flood." He further believes that his 2017 disclosures about the investigation of alleged links between the Russian government agents who interfered in the election and persons associated with the Trump campaign were an "extraordinary step" justified by "unusual circumstances."
It is important for the Department of Justice to follow established policies and procedures, especially when the stakes are high.
Rosenstein also touched on the longstanding traditions of the Justice Department. One of those would be not indicting a sitting president. Rosenstein also called for politics-free enforcement of the law and keeping confidentiality intact.
"My commitment to the Department's longstanding traditions carries with it an obligation to ensure that we keep pending law enforcement matters separate from the sphere of politics and that there be no perception that our law enforcement decisions are influenced by partisan politics or pressure from legislators," Rosenstein said. "Regardless of political affiliation, thoughtful former Department leaders recognize that departures from our confidentiality policies pose an extraordinary threat to the Department's independence and integrity."
Rosenstein said it is antithetical to the DOJ's mission to harm to reputations of people who are not charged with crimes.
"Punishing wrongdoers through judicial proceedings is only one part ofthe Department'smission. We also have a duty to prevent the disclosure of information that would unfairly tarnish people who are not charged with crimes," he said. "In 1941, Attorney General Robert Jackson explained that disclosing information about federal investigations to Congress could cause 'the grossest kind of injustice to innocent individuals,' and create 'serious prejudice to the future usefulness of the Federal Bureau of investigation.'"
We could take that, again, to mean that Mueller will not be naming and shaming individuals unless they are charged with crimes; nor will he be departing from DOJ norms and practices.
"Even when we file federal charges, Department policy strongly counsels us not to implicate by name any person who is not officially charged with misconduct," Rosenstein emphasized. "Every investigation is important to the persons whose reputations may be inseparably damaged or whose careers may be permanently disrupted. No matter who an investigation involves."
[Image via SAUL LOEB/AFP/Getty Images]
Have a tip we should know? [email protected]