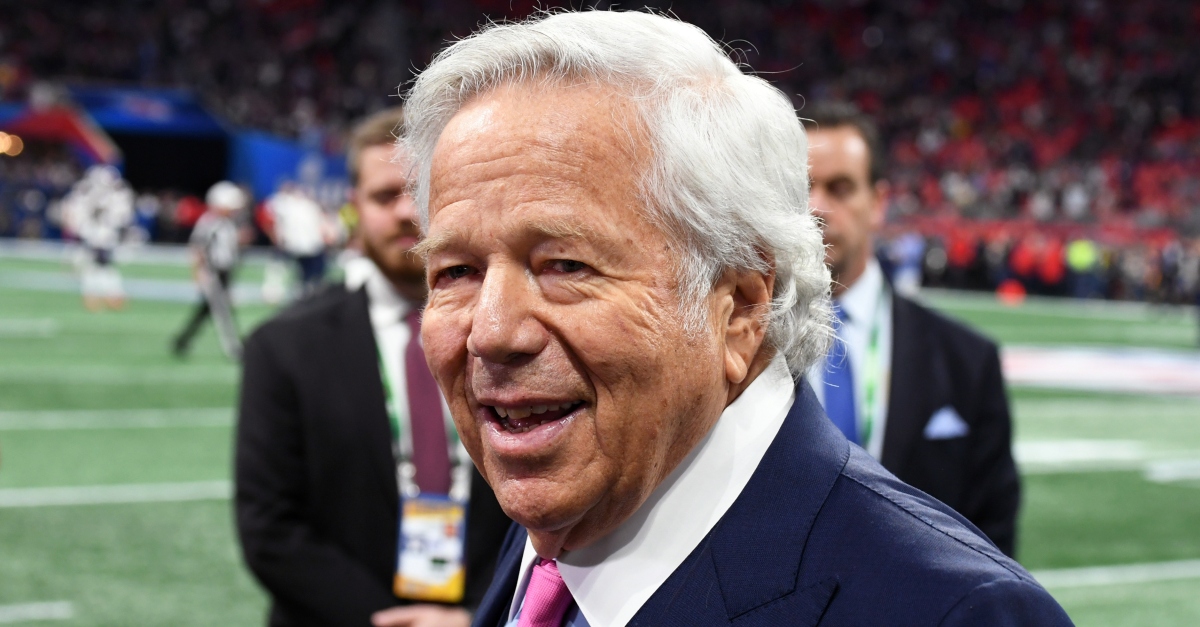 A Florida judge decided to suppress police surveillance footage of New England Patriots owner Robert Kraft from a prostitution case, ruling that the evidence was illegally obtained. It was a key piece of evidence in the case and the immediate effects of the ruling were put rather straightforwardly by Judge Leonard Hanser.
After authorities surveilled Kraft, the "stopping officer obtained the identification of Defendant through the stop; Defendant's identity was not known to law enforcement until he was stopped," the judge said.
"Therefore, all information obtained through the stop is suppressed as the fruit of an unlawful search," the judge continued. "Based on the foregoing, Defendant's Motion to Suppress is granted and all obtained against Defendant through and in connection with the search warrant is suppressed."
"Furthermore, all information obtained about Defendant as the result of the traffic stop […] is also suppressed," the judge added.
Prosecutors in Palm Beach County said that Kraft and other so-called johns solicited prostitution as Orchids of Asia Day Spa. Police obtained a "sneak and peek" warrant to install hidden cameras on the premises. Footage allegedly showed the Patriots owner in some salacious, compromising positions, but that's a moot point for this criminal case.
As noted, Judge Hanser ruled to suppress all evidence obtained against Kraft through and in connection with the search warrant. This includes a January 19 traffic stop, in which a Jupiter Police Department officer pulled over a car in which Kraft was the vehicle.
"The Court finds that the search warrant does not contain required minimization guidelines, and that minimization techniques employed in this case did not satisfy constitutional requirements," wrote Hanser.
Kraft faces two misdemeanor counts of soliciting prostitution. Investigators initially construed the case around Orchids as a human trafficking situation, but no such charges were filed. The football honcho's defense has repeatedly taken authorities to task for that narrative. They argued in court filings that police investigating the spa over-exaggerated the evidence, and went overkill in probing what were allegedly misdemeanor crimes.
The defense argued that video was obtained illegally.
"Far from having justification commensurate with the extraordinary invasions it perpetuated, law enforcement in this case had no authority whatsoever for something as drastic as 'sneak and peek' video surveillance, much less continuous, unbounded video surveillance of naked patrons in private licensed massage parlors," they wrote in a filing obtained by Law&Crime.
Law&Crime reported before on the possible Fourth Amendment implications the search warrant authorities obtained in this case.
Robert Kraft wins fight ove… by on Scribd
[Image via Kevin Winter/Getty Images]
Have a tip we should know? [email protected]